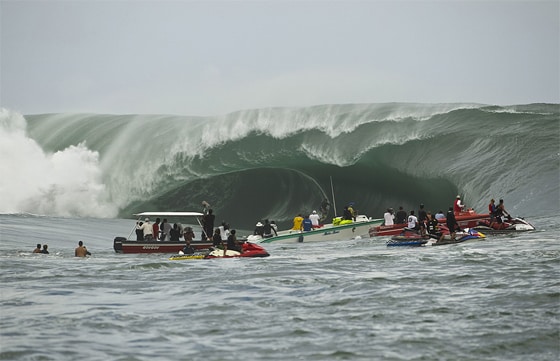 The annual Billabong Pro wrapped up recently but surprisingly the hype isn't on the overall winner (Kelly Slater) or even the contest highlights, but instead on the events of an "Off" day. On a rainy day in the middle of the contest, swells from the other side of the world pushed the already life threatening wave to a butt puckering 25+ ft forcing the event organizers to declare a "code red" suspending the contest until the wave came back down to paddling speeds. Instead of relaxing or trying to recover an elite group of surfers switched boards and geared up for what is being hailed as possibly "the heaviest tow-in session witnessed in surfing". As Slater put it, "They reach a point where they don't get any taller. They just get thicker."
Because of the force and speed of the wave and the incredibly abrupt and shallow reef, Teahupoo creates what is know as a "slab wave". Fast, powerful, challenging and incredibly dangerous, Slab Waves like Teahupoo don't give many second chances especially when the overhanging lip is thicker than the face of the wave. "I was scared for people, we had one wipeout that someone took that we were watching and it made me feel sick.  said Joel Parkinson. Unfazed by the daunting behemoth the world's best surfers jumped in and rode one of earth's gnarliest surf-able waves in a day that is already marked in surfing history forever.
To get a better idea of just how insane this wave was check out some of the barrels and slams for yourself below and check out the full Photo Gallery at Surfer.