DC Shoes
Judge Snowboard Boots 2019
Sale: $230.95
(30% off, was $329.95)
2 Reviews
(2)
Write a Review
Overview
DC Shoes has redesigned the Judge snowboard boots to combine a stiff, articulated construction with the fine-tuned fit of Boa H3 Coilers. A stiffer feel enhances response at speed and delivers the support needed for sending off jumps. Two Boa dials allow you to micro-adjust the tightness of the boot to lock in your heel, while Aerotech vents speed sweat evaporation to keep your feet dry. The internal ankle harness provides supported framing for your ankles and provides added security. The addition of a rugged and lightweight Vibram outsole makes the trek that much easier on your feet and allows you to walk longer distances with comfort.
Features
Key Features
Double BOA Focus Lacing with Coiler Dial
Internal Ankle Harness
AEROTECH Ventilation
Liner
DC's Black Liner
Sole re-Purpose Insole
Shell
BOA Black Stainless Steel Lace
Flex Articulated Construction
Vibram Outsole
Details
1:1 Golden Last Construction
1 Year Warranty
Key Features
Double BOA Focus Lacing with Coiler Dial - Independent BOA dials allows you to micro-adjust the fit of your boot and focus in on comfort. One dial adjusts the upper lacing zone while the other dial adjusts the lower zone, so you can customize your fit to reflect your ride style. Run the top loose and the ankle tight? Vice versa? The choice is yours.
Exceptionally durable and lightweight. The Boa Coiler Dial uses aircraft grade stainless steel laces, nylon guides and a mechanical easy-turn nob to provide smooth, comfortable, on-the-fly adjustment for a truly customized fit. The coiler auto-retracts the cable back into the dial for easy in, easy out.
Internal Ankle Harness - The Internal Ankle Harness improves and enhances boot fit by tightening the closure around the ankle for better stability and response without any slippage.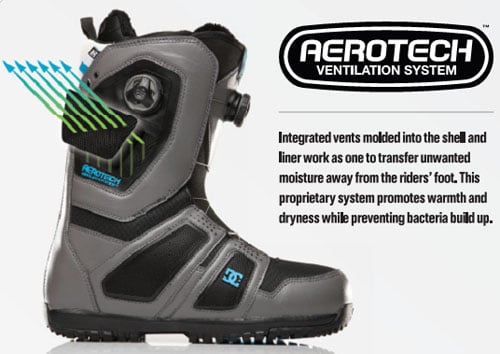 Liner
DC's Black Liner - Pinnacle Performance. Advanced Aerotech Ventilation™ regulates moisture and temperature in the Multi-layer construction of this liner that combines EVA Memory foam and high rebound heat-moldable EVA, delivering out-of-the-box comfort and unrivaled custom fit. Lateral support beams and a 360° Power Strap provide all-season support. Anatomical latex J-Bars offer superior heel hold while a dual-density EVA footbed with an Impact G Heel Cushion™ ensures next level comfort.
Sole re-Purpose Insole - Comprised of 100% recycled EVA, and paired with a TPU molded arch support, this insole gives you the stability you need while enhancing your balance in the most demanding conditions.
Shell
BOA Black Stainless Steel Lace - Just when you thought BOA couldn't get any better, DC is proud to present the Boa SS. The SS stands for stainless steel, which won't rust or corrode in even the most demanding conditions. This makes it the perfect material for DC's premium boot line.
Flex Articulated Construction - Designed to give the rider the ultimate articulation without sacrificing support. The internal neoprene ankle provides solid heel hold down without bulky and restrictive laces while the liner and shell work as one seamless system to allow the rider to flex freely side-to-side.
Details
1:1 Golden Last Construction - 1:1 Golden Last Construction is used in every boot made by DC.
This construction decreases the overall foot print of the boot and secures a better fit and heel hold by following the natural contours of the foot.
It also increases the forward lean of the boot for quicker heelside response while narrowing the heel cup to prevent heel lift.
1 Year Warranty - Covered under manufacturer warranty for 1 year from the time of purchase. Warranty includes manufacturer defects in materials and workmanship only and DOES NOT cover damage due to normal wear and tear, damage from resting your board's edge on your boot while on the chairlift, or damage caused by any modification done outside the manufacturer's facility.
Reviews
by
Kyle
in
Federal Way, WA
(Verified Buyer)
Posted on 4/24/2018
DC Shoes Judge Snowboard Boots - dark shadow
I bought these because after 5 seasons of abuse, my 2013 DC Judge boots were destroyed. I loved the boots though, so I literally just decided to buy the same ones but the 2018 model. The boots are incredible. The first thing that I noticed is that they are SIGNIFICANTLY lighter in weight than the 2013 model. They feel like a comfortable pair of skate shoes. They're easy to walk in, but super responsive on the mountain. Assuming this model is still around in another 5 years, I'll probably buy them again. Oh also they look pretty sick so that's always a plus
Solid, firm, lightweight boot
by
Sean Huss
in
Monument, CO
(Verified Buyer)
Posted on 3/30/2018
DC Shoes Judge Snowboard Boots - dark shadow
Just put in 3 days straight in my new boots. I didn't get a chance to heat mold the liner, but no issues. The Aerotech vents kept my feet at the perfect temp. And the Boa closure really cinched the boots down compared to the laces on my old boots. I was a 12 in my old Burton's, but I'm a 13 in the DC Judge. Looks like they run a little small, so recommend you order up a size.