Overview
From the beach to the boat and beyond, outdoor action requires serious shades that offer unquestionable protection and comfort. The Tech One sunglasses from Electric are purpose built for those all-day adventures. The re-engineered, wrap-around design with its smooth, angular features provides crucial glare reduction in sun, snow and surf alike. Truly a sport-specific frame, the design also allows for a perfect fit with a hat or helmet.
Features
UV Protection
100% UV Protection
98% HEV Protection
Details
Polycarbonate Lenses
Grilamid Frame
5 Barrel Stainless Steel Optical Hinge
UV Protection
100% UV Protection - UV rays can be extremely harmful to your eyes. These damaging rays can accelerate your eyes aging process and these negative affects can be enhanced by surfaces like water and snow. In addition to providing exceptional optical clarity all Electric's lenses block 100% of these damaging UV rays so that your eyes can rest easy.
98% HEV Protection - High-Energy Visible (HEV) rays cause damage to the eye that don't often appear until later in life in the form of macular degeneration. These lenses minimize exposure and help to prevent future eye problems.
Size Category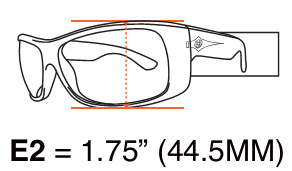 E2 - Category sizes are measured from the widest point on the vertical axis of the sunglass frame.
Curvature
8 Base Curvature - The base curvature corresponds to the curve of the lens. The higher the number, the higher the curve. 6 base styles have a "flatter" look. 8-9 base curves hug closer to the face.
Frame Measurements (mm)
These measurements include the height of the frame, the width of the frame and the length of the arms in that order.
Details
Polycarbonate Lenses - The most impact and scratch resistant lens material available today. It can be produced much thinner and lighter than CR39 or glass. Electric's injected polycarbonate lenses block 100% of the suns damaging UV, UVA, UVB and UVC rays. Polycarbonate lenses are extremely lightweight, provide high impact resistant, and have excellent optical clarity.
Grilamid Frame - Grilamid is a nylon compound that when heated and mold injected becomes the lightest, strongest plastic material available. Once Grilamid is formed it has the amazing attribute of being extremely flexible, but is able to maintain its original shape under all temperatures.
Specs
| | VLT Rating |
| --- | --- |
| gloss black/ohm grey lens | 5 - 10% |
| matte black/melanin grey lens | 5 - 10% |
| matte tort/ohm bronze lens | 11 - 15% |
| tortoise shell/ohm bronze lens | 11 - 15% |
---

More products from Electric