Gullwing
Pro III Skateboard Trucks
4 Reviews
(4)
Write a Review

Coming Soon
Estimated availability mid to late June 2021
Success! We'll email you when it arrives.
Enter your email below and we'll hit you up when it arrives.

Skateboard Truck Size & Buying Guide

More from Gullwing
---
Overview
The Gullwing Pro III skateboard trucks are back from yesteryear in all their 80s glory. These trucks have the same geometry as the Mission 1 trucks and work best on wide cruisers.
Features
Baseplate Style
Standard
Old School Deck Compatible
Details
89a Cone and Barrel Bushings Combo
Non-Compatible Risers
Risers from the following brands are not compatible with the baseplates of these trucks.
Sizing Reference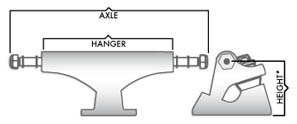 Note - Every skate truck brand represents their sizing a little differently, so it's easy to get confused. Take a look at this graphic and then reference the size chart.
Specs
| Size | 9.0 axle |
| --- | --- |
| Hanger (mm): | 158.0 |
| Board Range (in): | 8.75 - 9.25 |
| Height (mm): | 58.0 |
| Weight (g): | 425.7 |
Reviews
by
Kevin D
in
Wichita, KS
(Verified Buyer)
Posted on 10/26/2020
Gullwing Pro III Skateboard Trucks - blue/black
These are sick! I put these on a 9"x34" popsicle deck with 58mm Spitfire Parkburners and just a shock pad. They're definitely a vert/pool/just putting around truck as they're tall and weigh more than both of my flat ground 8.675" hollow trucks combined on each end. But, the groove helps catch the coping, and the only modification I would recommend is to take down the kingpin a bit or get Grind King kingpins as the trucks like to be loose for pool riding and you can drag the kingpin nut on the coping. Other than that, these pair wildly well with wide skate decks and T-tails and give you a lot of motion for carving.
by
Jeffrey C Lin DBA
in
Brea, CA
(Verified Buyer)
Posted on 6/13/2018
Gullwing Pro III Skateboard Trucks - silver
These Silver Trucks look SO GOOD on my TIRED Cruiser Deck. Matched with my RED Powell Peralta G-Slides and BRONSON Bearings, they ROLL smooth and can still PERFORM TRICKS!
by
Nolan Bishop
in
Arlington, TX
(Verified Buyer)
Posted on 1/17/2016
Gullwing Pro III Skateboard Trucks - white
Only tkps worth it low and lean
by
Jaden
(Tactics Employee)
Posted on 11/17/2015
Gullwing Pro III Skateboard Trucks
these are the most radical 80's reissue trucks. the groove helps you comfortably pivot on coping and best of all they just look so cool! and so many neon colors.