Independent
Grant Taylor Hollow Stage 11 Skateboard Trucks
3 Reviews
(3)
Write a Review
Overview
Hollow Stage 11 skateboard trucks are 7% lighter than standard Stage 11 trucks. Hollow axles and kingpins make these trucks ideal for any type of skater who wants to cut weight off their setup. They also offer superior turns, better grind clearance, an improved no hang-up yoke for more grinds, and less wheel bite.
Features
Baseplate Style
Standard, except for:
silver/ano blue 159: Standard, Old School Deck Compatible
Details
No Hang-Up Yoke
4140 Chromoly Steel Axles
90a Medium Durometer Bushings
Lifetime Guarantee
Axle/Kingpin Style
Hollow Axle & Kingpin - Hollow axle trucks cut down on the materials used in the axle, so your trucks feel lighter. Hollow kingpins further reduce weight while still maintaining strength in this critical area.
Non-Compatible Risers
Risers from the following brands are not compatible with the baseplates of these trucks.
Sizing Reference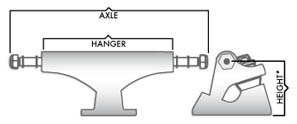 Note - Every skate truck brand represents their sizing a little differently, so it's easy to get confused. Take a look at this graphic and then reference the size chart.
Details
No Hang-Up Yoke - An enhanced yoke around the cushion seat takes the kingpin out-of-play on grind tricks like feebles and smiths.
4140 Chromoly Steel Axles - Chromoly has a high strength-to-weight ratio and is more durable than traditional steel, making it the best option for performance skate trucks.
Lifetime Guarantee - Covered under manufacturer lifetime guarantee against breakage defects in hanger/base materials or workmanship. This lifetime warranty DOES NOT cover broken trucks due to abuse or neglect, damage caused by any modification done outside the manufacturer's facility, or lost or worn out parts due to lack of hardware maintenance.
Specs
| Size | 8.0 axle | 8.25 axle | 8.5 axle | 8.75 axle |
| --- | --- | --- | --- | --- |
| Independent Size: | 139 | 144 | 149 | 159 |
| Hanger (mm): | 137.0 | 144.0 | 147.0 | 156.0 |
| Board Range (in): | 7.75 - 8.25 | 8.0 - 8.5 | 8.25 - 8.75 | 8.5 - 9.0 |
| Height (mm): | 55.0 | 55.0 | 55.0 | 55.0 |
| Weight (g): | 351.0 | 360.0 | 369.0 | 372.0 |
Reviews
These are a perennial favorite.
by
Shreds
in
Huntington Beach, CA
(Verified Buyer)
Posted on 1/10/2019
Independent Grant Taylor Hollow Stage 11 Skateboard Trucks - black 149
by
Seattle
in
seattle, WA
(Verified Buyer)
Posted on 6/14/2018
Independent Grant Taylor Hollow Stage 11 Skateboard Trucks - black 159
What you'd expect from independent trucks
Turn great straight from the factory
Posted on 9/17/2017
Independent Grant Taylor Hollow Stage 11 Skateboard Trucks
These are gravity cast so they are 1.5mm taller than the forged hollows and 7% lighter than regular. You can run up to 56mm wheels and not worry to much about wheel bite. The colorway is sick and they turn great straight out of the box. Look no further for a great truck
Asked by
Phoenix
on 5/3/2018
can you get 60 mm wheels with them
Answered by
Graig A
(Tactics Employee) on 5/3/2018
Yes you can use 60mm wheels with these trucks. We would suggest getting a riser pad though to avoid wheel bite.