Amigos Skateboards | Q&A with Sasha Barr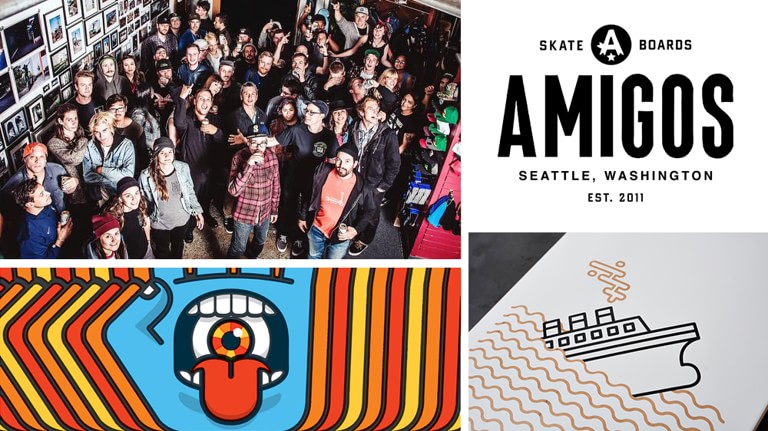 We recently welcomed Amigos Skateboards to our shelves at Tactics, so we hit up art director Sasha Barr to see what they're all about. Sasha established a solid career as an artist in the music industry, then adapted his experience to help create Amigos in 2011 with a group of friends in Seattle, Washington. Their goal? To remind everyone of "the best part of skateboarding, the community". Take a dive into Sasha's past and present to get the full story from the amigos to the skateboards.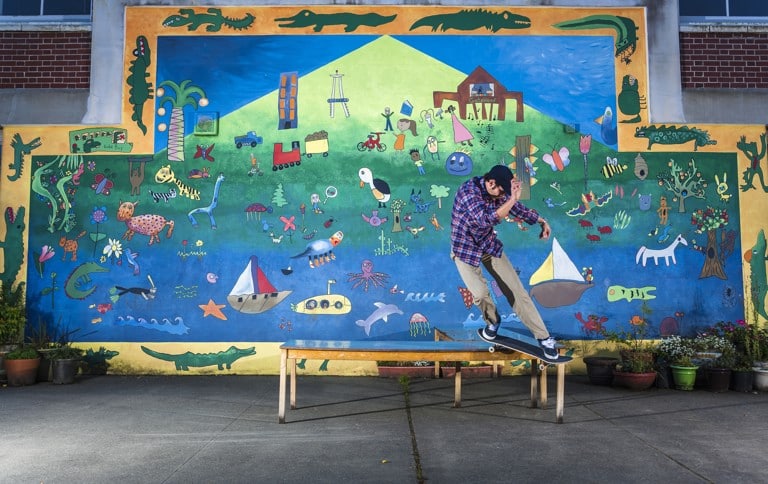 Who are the key Amigos and what roles do you each play?
Amigos as a company is actually owned by 10 friends, but on the day to day things it's mostly myself and Maurice [Hrboka]. Maurice and I both do a lot of the shop outreach, I do all the graphic stuff, social medias, and other business affairs. We also have a pretty pro photog in the group, Justin Gollmer, and a filmer/editor, Joe Flahtery. We're mostly just a group of friends trying to keep up the life stoke. Team wise we have Ryan Stangland, Sean Harris, Nile Gibbs, Ken Takayama, Dustyn Tisdel, and Chris Jameson.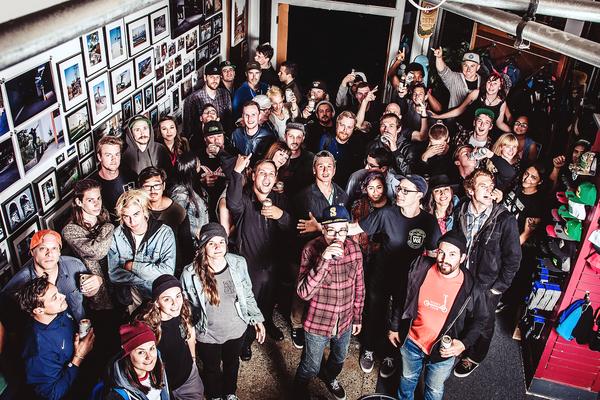 At one point or another, I think we've all toyed with the idea of starting a brand with a group of skate homies. How did you make it a reality?
It wasn't long after the guys at Manik decided to retire the brand that Maurice began tossing out the idea of starting a board brand. I'd had some experience as a small business owner and the design/art background, so to me it was a no brainer. I'd recently been doing some work for Stereo and Chocolate, but the idea of having my "own" brand to work with? Sign me up! A group of 10 people made the idea that much more affordable and a way to do something fun with friends. I probably started making a logo and board graphics the same day it was brought up.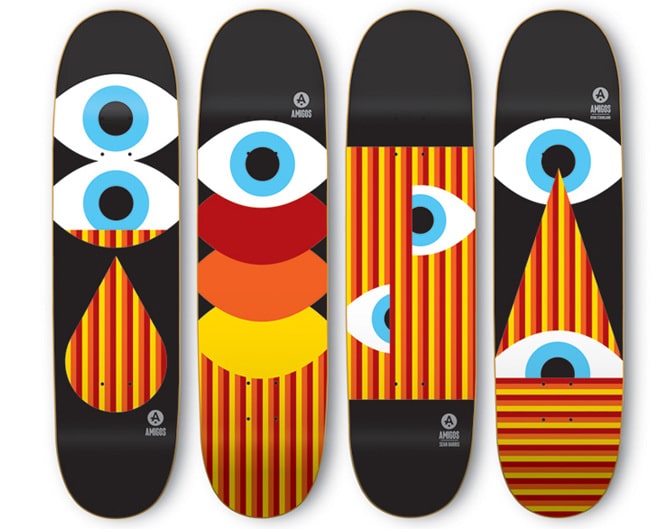 You have a pretty impressive list of past/current clients and employers from Vans to Sub Pop Records. Can you tell us a little about your past or ongoing projects and how they lead you to Amigo Skateboards?
With skating it all really started with my friend Joey Pulsifer. I had an old friend from Tennessee that was working at Giant Distribution in the early '00s, namely with the wheel brand Accel and hardware brand Project Hardware. Joey was the main dude behind Project, and through my friend he asked me to do some t-shirt graphics for them. Joey also hooked me up with some board and t-shirt graphics for Furnace in Long Beach, CA and some work with other smaller brands.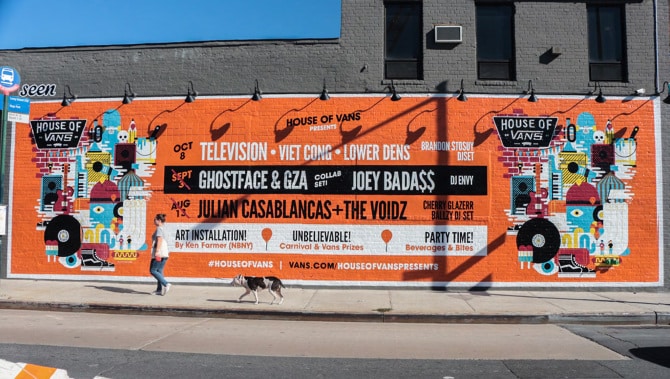 As my own work evolved and changed over the years, I guess I was getting my name out there a bit more. Andy Jenkins over at Chocolate Skateboards wrote me in 2007 to do a board for Chocolate, which was amazing. A couple years later Joey came back around and got me in touch with Chris Pastras over at Stereo, who was kind enough to let me do 8 (!) boards for them. There was kind of a lull for me in skate stuff for a while after that, but thankfully we started Amigos in 2011. Amigos opened me up to the greater skate community here in the Seattle/Northwest area. Through Amigos I was also lucky enough to get involved with projects with Vans and make friends/connections throughout the skate industry.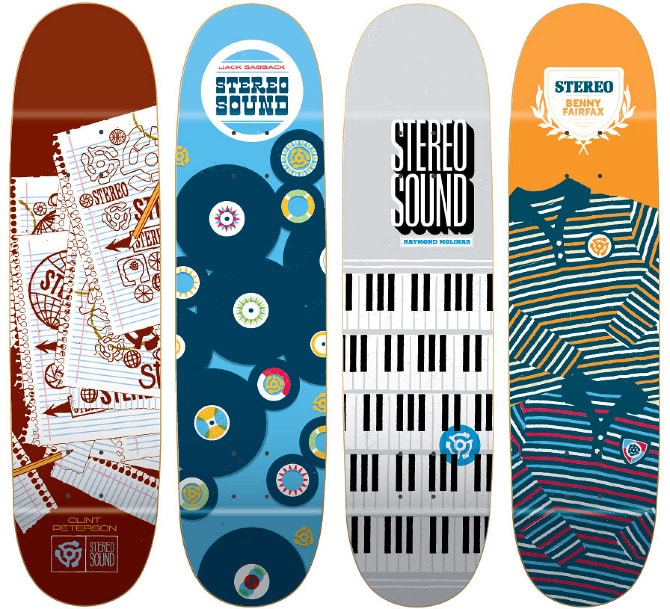 With music I started on a hyper local level in the Memphis, Tennessee music scene (where I'm originally from) around 2000, met people from around the country/world through that, Gigposters.com, and Flatstock Poster conventions in Austin and here in Seattle. It was a gradual process of about 7 years from my very first project in 2000 to getting the gig at Sub Pop in Seattle. Music was really my first introduction to professional and freelance work; it was my work in the music industry that lead to everything else. Working in the skate world, illustration world, and anything else freelance related all stemmed from the work I was doing in posters and album art.

How does working in the music industry differ from the skate industry? Any preference?
Ah, that's a good/complex question. For the skate stuff I by and large have full creative control. I typically have the ability to make whatever in my style, however I envision it, really just do whatever. With the work I do at Sub Pop it's less doing stuff in my own illustration or graphic style and more art direction, working with bands to make their vision a reality with the albums. Sometimes this involves working with art the bands submit, which could be anything under the sun- paintings, drawings, photos, etc. – and it'­s my job to figure out how to best make it work. Sometimes bands come to me with just a general idea or examples of things they really like, and it's my job to find artists or photographers that can best bring that idea to life.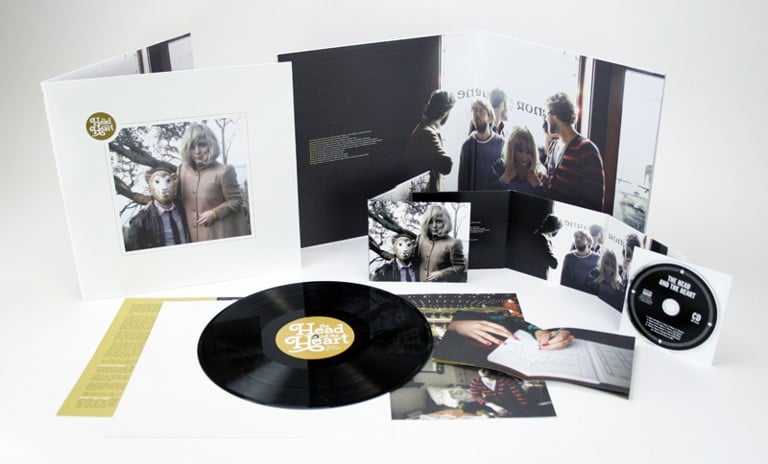 I love the role of an art/creative director. It's a great feeling to help a band make their idea a reality. I'm lucky enough to be able work on products like we have in our online store and SeaTac Airport store, which includes everything from product development to the graphics that goes on the products and packaging themselves, not to mention being able to help design the store itself. From an illustration standpoint, I get a lot of creative freedom with our Spotify and streaming playlists, as well as graphics for our social media platforms. In regards to if I have a preference, I don't think I have one. I really enjoy being able to work in both industries, there's great aspects to both of them.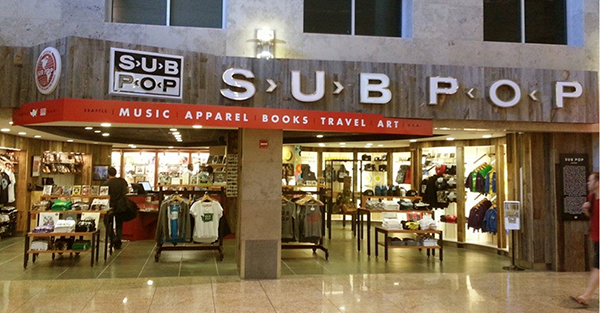 Seattle is a very art centric city from the architecture to the street art. How has that influenced your work?
I don't know if I could say that the architecture or street art in Seattle have been an influence on me, but I could definitely say that the history and community have. Working at a place like Sub Pop I get to experience the music history of the city first hand, which I love. I can definitely say that the skate community here is inspiring to me, more than anything having Amigos has made me be a part of the greater community and I'm super thankful for that. I would say that Seattle as a whole influences me just to keep doing what I'm doing.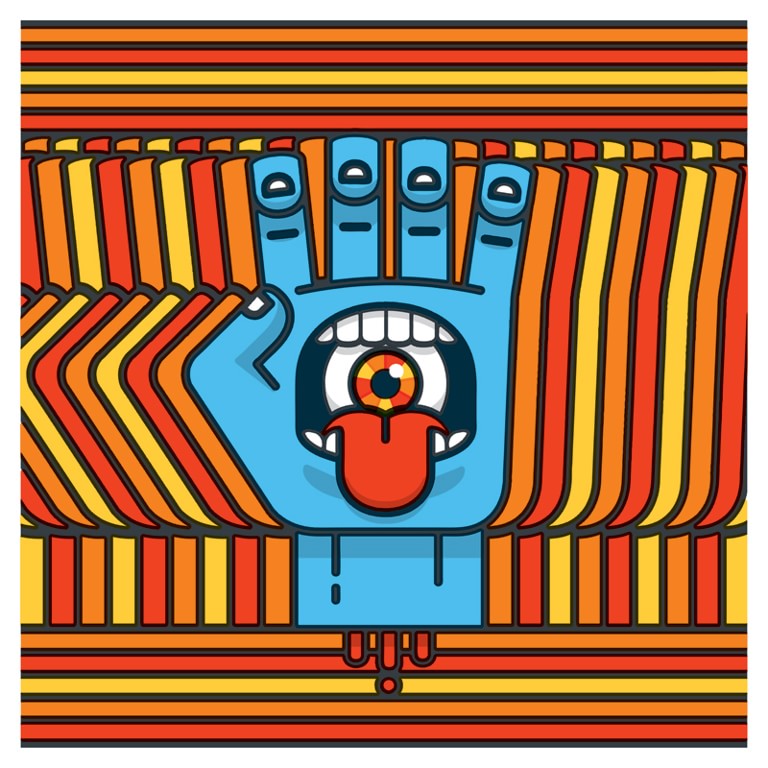 What's your weapon of choice? Pen, brush, spray can, or stylus?
Ha, is it lame of me to say "computer"? I have a BFA in printmaking, so my background is in hands on art stuff, but over the years the computer, primarily vector art in Illustrator, has become my tool of choice. Sometimes I'll print stuff out and do the xerox thing or redraw whatever, but by and large I am, what I like to call, a "Graphic Illustrator." I dunno, I like to wear a few hats, which include designer, art director, illustrator, etc.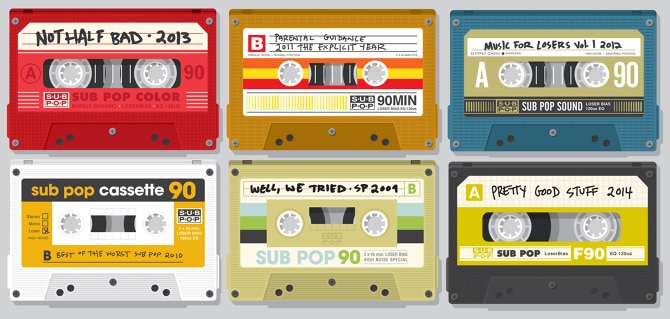 Haha, thats not lame! Just about everything we create these days either starts or finishes on a computer. Tell us about the 2016 Amigos line. Any particular inspiration or goals?
I really wanted to do something simple with 2 colors and have some wood showing. I know, I know, showing wood was/is so on trend, but hey, we did that like a few years ago (ha). I really like to do our boards as series (as a child of the rise of Girl/Chocolate era), so that's always a starting point. With these I'd already started making a larger batch of illustrations for another project, so I just whittled a few down to the basic black and white graphics you see now. We'd done some more colorful things in our previous lines, and with this one I just wanted to keep it simple and sharp with minimal branding.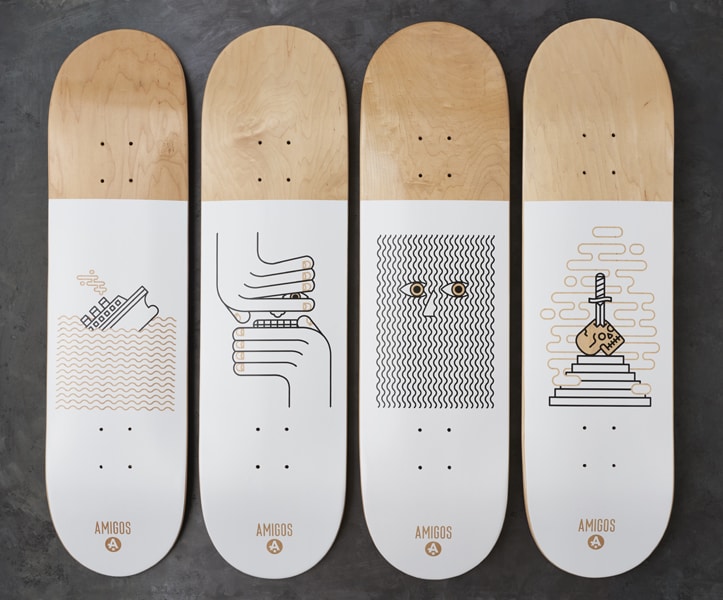 Whats next? Can you give us a little tease of something to look forward to?
I'm heading down to Huntington Beach a week from today to do another year in the bowl at the Vans US Open, so that's something! That was a rad experience last year and I'm obviously looking forward to doing it again. With Amigos we've got a guest artist board coming in August with our buddy Jay Croft over at Street Canoe that we're excited about. Jay's a good homie and we've wanted to do something with him for a while. Oh! And there's also the Sub Pop x Altamont line that should be out at the end of this month. Def excited for that one to be out.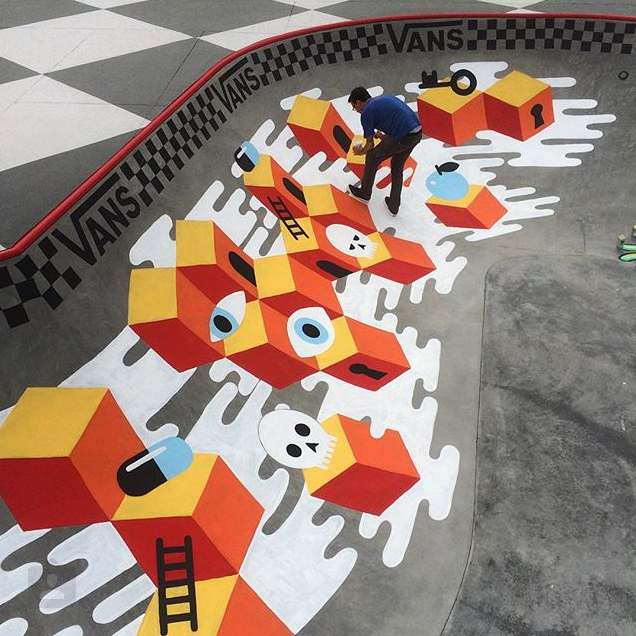 Amigos has a pretty solid squad of rippers on the team. Any big trips, videos, or other team projects to keep an eye out for?
Nile [Gibbs] is pretty much always filming with his roommate and homie Jon Coyler, they're both super motivated and seem to always be working on something. Chris [Jameson] and some of the other dudes have been filming with Jake Menne for his next project, Friend Zone, and you know that's gonna be good!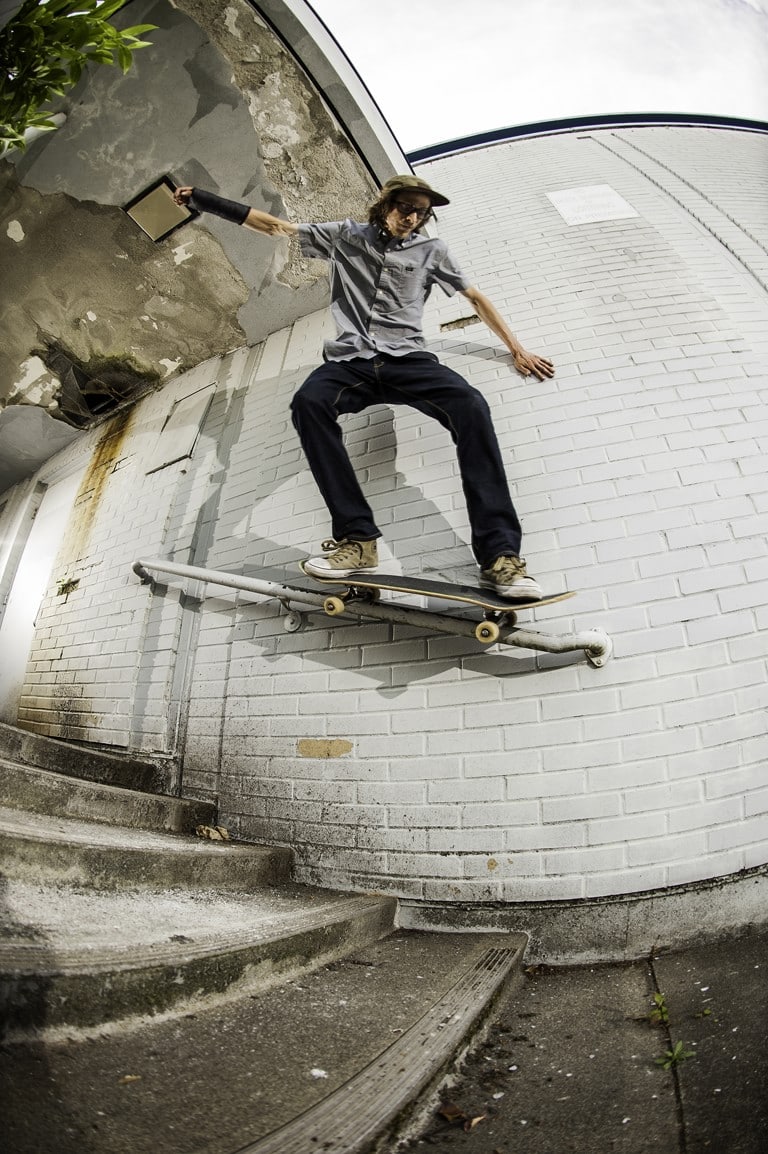 Any thanks, shout outs, or things you'd like to add?
All our team dudes, thanks for being stoked on us these last few years. Many thanks to ALL the shops and people out there that support us, we're seriously thankful everyday for the continued interest and support. The skate world is a funny thing, it's easy to get entrenched in the every day drama that is the internet, trends and "professional" world of skating. Let's not lose sight of the best thing about skating, the community. We're all forever thankful to be a part of it.
Related Posts