Best In Snow | Outerwear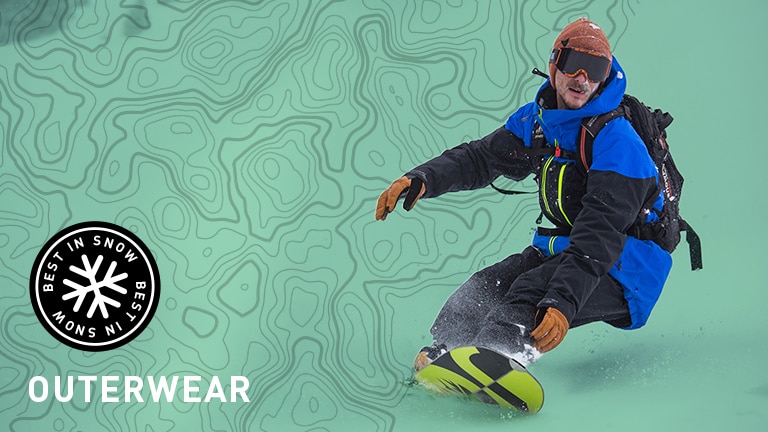 It doesn't matter if you spend your time slashing pow in the backcountry, rallying the resorts, or getting tech in the streets, we have the perfect piece of outerwear to fit your style and budget needs. Cover up with Gore-Tex for an ultimate level of protection from the elements, or grab a lightweight budget friendly jacket for urban style and comfort without breaking the bank.
Jackets | Ultimate Performance & Protection

Whether you're stuck in a blizzard or caught in a rain shower these jackets feature the materials and technology to keep mother nature out! With design features like fully taped seams, waterproof zippers, multi-layer laminates and Gore-Tex, these jackets are guaranteed to offer the best overall comfort and protection on the market. If you're someone who spends long days in the backcountry or rides from first chair to last call no matter what the conditions are, these are the jackets for you.
Shop Ultimate Performance & Protection
Jackets | Resort Performance

Designed with functionality in mind, these jackets offer the features and technologies to make lapping your favorite runs at your local resort a breeze. Strategically placed pass and media pockets allow you can spend more time shredding and less time searching through your jacket. With 3-in-1 layering options, waterproofing of 20,000mm plus, and the most styles to choose from, there is sure to be a jacket that will fit your style and performance needs.
Jackets | Budget Friendly

Looking to shred more and spend less? These budget friendly jackets will keep you warm and dry without breaking the bank. Perfect for the casual ripper or someone who is looking for a piece to thrash in the streets, these jackets offer style and comfort at a modest price. Complete with insulated options as well as waterproofing up to 15,000mm, your body and wallet are sure to feel comfortable no matter what style you choose.
Snowpants | Bibs

Designed to keep the snow out, bibs have returned not only to supply the snow industry with a throwback fashion trend, but to also serve as highly functional piece of outerwear. A great option for the powder hound who often finds himself in the middle of a waist deep tomahawk, or the hard working lifty who wants all-day comfort and maneuverability while out in the elements.
Snowpants

A good pair of pants are perhaps the most important piece of outerwear you can own. From bottomless pow days in the dead of winter to slushy spring park laps, pants provide protection and comfort in a wide range weather conditions. With a variety of styles and fits to choose from there is something for everyone. From backcountry tuned Gore-Tex styles to slim fit street inspired designs. Whether you're looking for form and function, or style and fit, we have the handpicked selection for you to choose from.
Related Posts