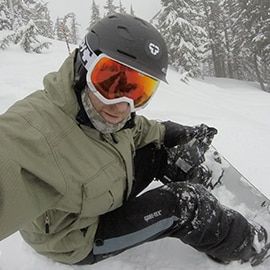 Position:

Co-Owner

Best part about your job?
#1 – Hearing from stoked customers. #2 – Knowing our staff is passionate about what they do at Tactics.

Which Tactics trip or event is the most memorable for you?
The Tactics staff surf trip to Pacific City where one guy separated his shoulder and a beginner surfer puked because he swallowed so much water getting worked in a closeout.

What were you doing before you came to Tactics?
Trying to finish a master's program in Environmental Studies at the University of Oregon.

Mac or PC?
Mac, but I run a VM on it to have Windows too.

Best things about the NW?
Summers. Anadramous fish. Rivers. Ocean. Mountains. Skateparks. Bachelor Powder.

Worst thing about the NW?
Clearcuts.

How'd you get your job at Tactics?
I created it out of thin air.

What would you do with $5,000?
Give it all away to Tactics staff.

Skate/surf/snowboard/bike?
Not as much as I'd like, but yes, old-man style. I'll take any powder day. And, fly-fishing for steelhead.

Most memorable retail store experience?
When I was out having a beer at a bar across the street one night and got a call from one of the shop staff that they had found a gun in the dressing room as they were closing up. They were freaked. I told them to leave it there and lock up. I finished up my beer and my wife and I went back to the shop. Sure enough, not just a gun, but a loaded 9mm with one in the chamber. At least the safety was on. I didn't know what to do with the thing, so I called the non-emergency police number. I was explaining the situation when all of a sudden my wife saw a couple of shady looking dudes banging at the front door. She was tripping. I'm holding the gun (the bullet is now out of the chamber) and she thinks we are going to be attacked by some tweakers. The woman on the phone says hold on, talks with someone else, then comes back and tells me that in fact those are undercover police officers outside who were in the store shopping right before closing and accidentally left their gun. Nice. They discovered it after our crew had locked up and had been frantically trying to get their gun back. They were probably imagining the headlines "kid finds cop's gun in skate shop and accidentally blows off his own foot." I think they planned to wait across the street until morning if they had to. I opened the door, gave his gun back, and chided him like a little school girl (probably the only time I could expect to get away with harrassing a cop). I checked the sales history from the end of the day - turns out he bought the Von Zipper Homeless Beanie. My only regret was that I didn't require him to also buy our most expensive snowboard, surfboard, and longboard in exchange for the return of the gun.