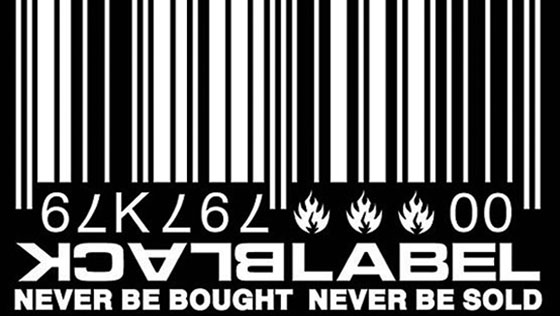 Black Label is a company that is an anomaly of originality mixed with a rawness that has yet to be matched. The company is exactly as its motto states, "Never be bought, never be sold", which has held true for the past 25 years of its operation. We recently had the pleasure of picking the brain of their art manager and editor, Patrick Nagy whom had the following to say.
What is your name and affiliation with Black Label?
Patrick Nagy – Art Manager / Film Editor
How did you get your start in the company?
I was hired as the video guy back in 2000 to make the video "Label Kills" and I picked up doing the art and web design over the years.
Where is Black Label based?
Huntington Beach, California
How did Black Label get its start? What is the inspiration behind a brand whose motto is, "Never be bought, never be sold"?
Black Label was started way back in 1988 when John Lucero left his sponsor Schmitt Stix to start his own brand originally titled "Lucero LTD". In 1990 he changed the name of the company to "Black Label", allegedly after drinking a large amount of a particular cheap Canadian beer. The motto was here before I was, but I believe it is just all about being yourself and sticking to your guns. Not changing just to be popular or something someone else likes.
Was Chet Childress' resignation from the team as surprising to you as it was the rest of us?
I think we all saw it coming, but he left on good terms. We love Luda.
Who currently rides for Black Label?
Chris Troy, Omar Hassan, Peter Watkins, Adam Alfaro, Vince Del Valle, Peter Raffin, Javan Campello, Tyler Mumma, Salman Agah, Matt Hensley, Wade Speyer, and we are announcing a new team rider next week!
Who has the raddest Black Label tattoo of all time?
That is a good question. I've seen a lot of them over the years. I have the "God Save the Label" logo on my shoulder. There is a guy in Japan covered in different Label logos and designs. It's crazy.
Does Lucero have a Label tattoo?
Actually Johnny is 100% tattoo free.
Well it's been about 4 years since the release of "God Save the Label", where do you see Black Label 5 years from now?
Has it been that long? 2009 I believe. Who knows? We're going to keep doing what we are doing. Making quality skateboards, and skateboard stuff the way we want to make them. If it makes you feel any better we are releasing a new promo video entitled "Black Blood" in the next couple months!
Any last words that you would like to add?
This year is Black Label's 25th anniversary, and we hope to keep making skateboards for many more years because it's all we know.
Never Be Bought, Never Be Sold and Never Forget.
Now enjoy "God Save the Label" and after join the cause by getting Label'ed over Tactics.