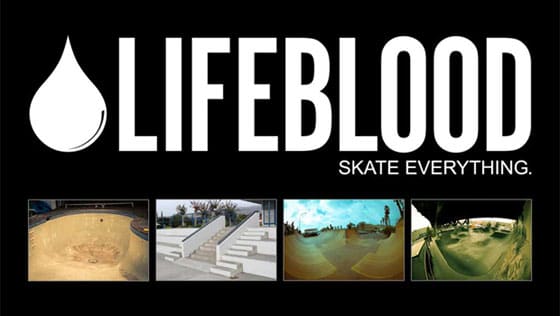 A Pacific Northwest native, Lifeblood Skateboards is a company based off of skateboarding at its purest of solid friendships and camaraderie with the inherent desire to skate everything. Co-owner of Lifeblood Skateboards, Colin Sharp, was willing to field a few questions we had about the brand as well as Brooklyn Street Skatepark (the newest DIY addition to the streets of Portland, Oregon). After reading this short interview check out their first video "We Must Bleed  featured below and get yourself a made in the USA, Lifeblood Skateboards today at Tactics.
Where is Lifeblood located?
Inner SE Portland, Oregon
What sparked the idea to create Lifeblood?
I got together with photographer and legendary skateboarder Bryce Kanights and wanted to start a company with a younger group of skaters who represent our motto, "Skate Everything  ¦ all of our riders are all-around great skateboarders!
Who currently rides for Lifeblood?
Lifeblood Skateboards is Frank Faria, Johnny Turgesen, Dalton Dern, Kevin Kowalski, Cody Lockwood, Mark "Red  Scott, Mason Merlino and Joshua Rodriguez.
How do you determine who to bring on the team?
Compatibility, easy going and good people who like to skate everything!
What would you say best describes the brand?
Skateboarding and good times with friends.
Do you still skate?
Yes.
How did the Lifeblood-Wizard Tour* come about?
Bryce was friends with Toad and most of the rest of the guys at Blood Wizard and it seemed like a natural fit to have a tour and also come up with a collaboration board with the "Blood" connection
*Get the LifeBlood Wizard Collab Deck Here!
What do you predict Lifeblood will become in 5 years from now?
We hope to be doing exactly what we\'re doing right now, having fun, building a brand that encompasses camaraderie in skateboarding ad friendship.
Any last words that you would like everyone to know about Lifeblood?
Look out for more exciting news and video from Lifeblood!
Until then check out their last video titled: We Must Bleed and you might witness someone do a pad less full loop ¦
Wait! I almost forgo to ask, what sparked the idea to build Brooklyn Street?
This is obviously something separate from Lifeblood as a brand, but basically we saw a neglected part of the city which was only being used by transients and drug users that created a perfect spot to build something for the community.