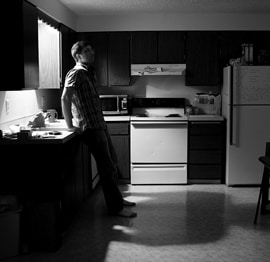 POSITION: Photoshopper
Best thing about the NW? Worst thing about the NW?

I love the rain (no joke), green trees, hills/mountains, and the cooler weather. Worst thing? No idea.
What were you doing before you came to Tactics?

I've worked selling home electronics, I worked at Guitar Center, and just recently at a print shop.
Skate/surf/snowboard/bike?
Other hobbies?

Music, movies, games, photography.
Favorite song/band right now?

I can't get enough of Discharge's 2009 album "Desensitize".
Are you a student? What are you studying? What did you study in the past?

I took graphic design at L.C.C., but this is the first job I've had where I can put my skills to work!
Do you have any nicknames? What are they? How'd you get them?

I think Casey Jones as my real name is better than any nickname. Some people call me "Case". It's not my favorite.
What would you be doing if you weren't working at Tactics?

Still working at the print shop, getting paper cuts all over my hands.
Five year plan?

To be the best Photoshopper in the land.
What would you do with $5,000

Mac Pro, CS5.5 Master Collection.