Chelsea L.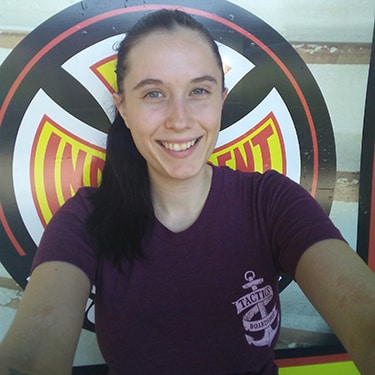 Position: Eugene Shop Staff
Skate, snow or surf?
None, but am willing to learn all.
Any other hobbies?
I draw, paint, write, garden and make music.
Any particular brands you're backing?
Obey, LRG, DGK, and my personal brand I am developing called Lived.
Do you have any nicknames? What are they and how'd you get them?
My nickname is Nascar because I like to drive fast lol.
Beverage of choice?
Water. Tea. Beer. Gin.
What would you do if you won the lottery and retired from Tactics?
I would buy a house where I would have kids and animals that need to be adopted. The kids could help out by growing food in the garden and helping with the animals and if any of them get adopted then that's awesome and if not then at least I give a good home to everyone instead of being in a shelter where they can possibly be killed or kids going to bad homes. I would invest money into the community, but lots of land, set up a greenhouse, set up a recording studio, and travel as much as possible.