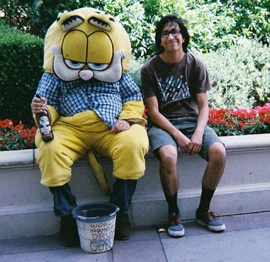 Position:

Footwear & Apparel Buyer

Are you a student? What are you studying?
Yes at Lane CC going for Art transfer.

What were you doing before you came to Tactics?
Working at American Apparel, folding hoodies…. and chillin.

Which brands are you backing?
Altamont, Adidas, Fourstar, Krooked, Roger.

Best thing about the NW? Worst thing about the NW?
Best thing is the weather, the rain isn't that miserable and the worst I'd say is that there is no In 'N' Out here.

Other hobbies?
Arting, cycling, and occaisonal reading.

Favorite song/band right now?
Joy Division, Gang of Four, & The Pixies.

Beverage of choice?
Coke, not Pepsi.

What would you do with $5,000?
Pay my rent, or invest.

Mac or PC?
Mac.

Skate/ Surf/ Snowboard/ or Bike?
SKATE.

Five year plan?
Maybe.