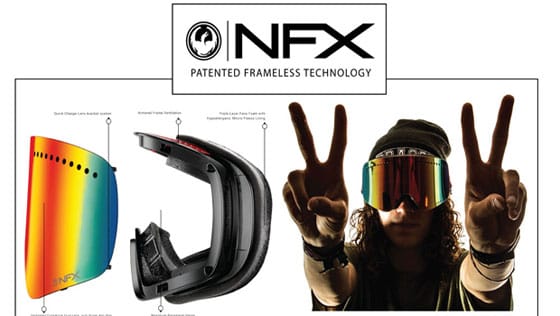 We have an award winning product on our hands! Available today at Tactics, the Dragon NFX goggle won the 2013 Best Goggle ISPO Award from a panel of 57 distinguished athletes, designers, retailers, and journalists from 14 different countries. Receiving this award solidifies the NFX's position in the market place as an aesthetically unique, frameless goggle with progressive technological features.
"Dragon is focused on creating innovative products, and it's great to be recognized for it," says Dragon's Director of Product, Mike Tobia.
Released solely as a limited Holiday 2012 product the NFX's frameless design allows for the ultimate peripheral vision. Other advancements included in the NFX design are easy lens interchangeability, armored ventilation, hypoallergenic micro-fleece lining with triple layer face foam for unprecedented comfort, a flexible dual lexan lens with super Anti-Fog treatment, and helmet compatibility.
"The NFX feels really good on the mountain, and the peripheral vision is insane," says Dragon ripper Luke Mitrani.
The following images are the Dragon NFX Goggles available for you at Tactics.