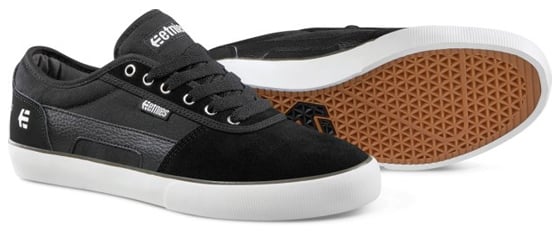 A talented skateboarder and photographer, Nick Garcia combined his two passions on his new signature colorway of the etnies RCT.
Nick\'s RCT takes inspiration and elements from his Canon AE-1 35mm camera on the heels of the shoes showing the focus and aperture markings, and on the footbeds highlighting a filmstrip and his photography. Even the etnies RAP bar on the side of the shoe is modeled after the leather wrapped body of his camera.
Watch this new unique video of Nick skating, produced by Ricki Bedenbaugh, to understand the complete picture here.
A little bit about the etnies RCT…
A favorite of the etnies skate team, the RCT\'s narrow upper creates a toe box to increase flick and enhance the slipper-like fit. The midsole features a cage like design built to provide additional support and a molded Foam Pro 1 footbed for comfort. As an added bonus, this shoe is a part of the etnies Buy a Shoe, Plant a Tree program too. To see a 360 degree view of the etnies Nick Garcia RCT shoes, visit Tactics.com.
The Nick Garcia RCT is available now at Tactics.com here.