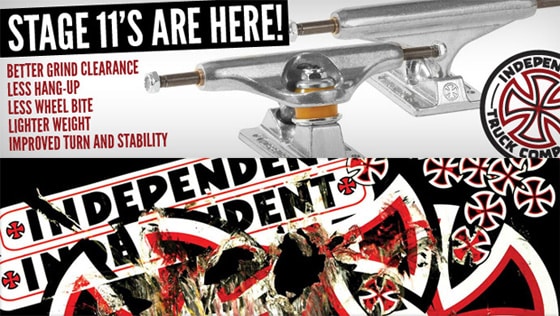 Indy's newest iteration of their trucks are here. Let us introduce you to the Stage 11's.
Independent engineered these trucks to be the best hybrid of performance and geometry ever produced. By improving the modern performance and iconic look of the Stage 10 design with newly reworked geometry, Independent has created the new standard to which all other trucks will be judged.
The Stage 11 trucks provide incredibly precise turns, better stability on landings, less high-speed wobble and decreased wheel bite. On top of all this, these trucks promise more overall grind clearance with an improved "no hang-up" yoke. Guaranteed for life, these performance trucks are number-one for a reason.
We got 'em in all sizes from 129, 139, 149, 159, and 169, so we'll definitely have one that fits your board. See all Indy trucks here.