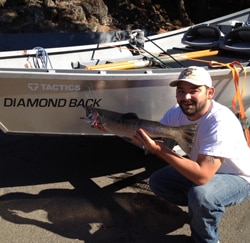 Position:

Warehouse Manager

Best thing about the NW? Worst thing about the NW?
The best thing about the Northwest is the weather because we get every type of it — hot, cold, snow, rain. There is something for everyone.

What would you be doing if you weren't working at Tactics?
Going to school most likely to get my degree.

Which brands are you backing?
I'm all about Nike, Volcom and Matix.

Do you have any nicknames? What are they? How'd you get them?
I would have to say most people that know me call me J.

Best part about your job?
The people I work with. They are chill and so is the job. My job's pretty tight.

What would you say it is that you actually do here?
I would say I get my work done so people get what they want from the company I work for.

Beverage of choice?
Good beer and juice.

Other hobbies?
I fly fish a lot and like to play pool and darts at the bars.

Favorite song/band right now?
God is great, beer is good and people are crazy.

What would you do with $5,000?
I would pay off my debts and have a good time with the rest of the money.

Skate/surf/snowboard/bike?
Skate cause you can do anything with your board.

Five year plan?
To get a nice place to live and be doing something I love to do.