Kevin N.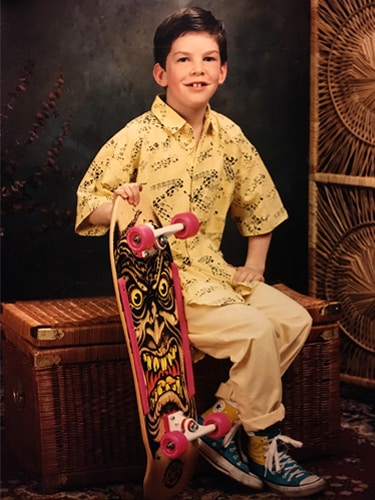 Position: Portland Shop Manager
Skate, snow or surf?
I've been a total board dork since 86'... Snowboarding consumes the bulk of what my aging battery can still put out anymore. The aggressiveness of my skating is typically governed by sub 90 duro urethane. And I've spent over 20 years half-assedly trying to catch the surfing bug... Relatively unsuccessfully.
Any other hobbies?
Perpetually making lemons into lemonade, attending a dumb amount of concerts, cat pandering, dancing, hiking, offbeat adventuring, 80's & 90's pop culturing, responsibly Peter-Panning, stuff & things.
Where'd you grow up, what where you doing before your time at Tactics?
Born in Washington, moved to NH in 87. Lived and breathed skateboarding, snowboarding, soccer, punk rock, & junk food until going to college in the White Mountains. There, I lived w/ 25+ snowboarding friends at our own ski area a mile from campus for a few years. While schooling, I filmed East Coast rooted snowboard films, ran a college radio station and huge skate / snowboard club. I apparently didn't sleep, since I also worked for Eastern Boarder & Budweiser at that time (although to this day, I've still never had a sip of alcohol.) I eventually graduated with a generic business degree, worked the Summer of 2001 at HCSC and moved to Salt Lake during the 2002 Winter Olympics, before heading back to Mt. Hood, and never leaving.
Roots have been growing in Portland since then, where I've bounced around a bonkers amount of snow and skate industry careers with Technine, Zumiez, Airblaster, Grenade, Greasebus, Exit Real World, evo, Dakine... & probably others I'm forgetting. I also got recently married, was born with only one kidney, beat the hell out of 2 types of cancer, and am a turbo over-sharer/long winded sentence, text, email writer... Consider yourself warned.
Any particular brands you're backing?
I prefer a well diversified portfolio, and have too much respect for all the raddists who bleed passion and authenticity in these industries, to play faves... At least on this public a platform.
Do you have any nicknames?
- KEVO... The band DEVO is kind of a big deal to me.
- Nims... Obvies
- Merle... It's my middle name. But don't try to talk to me about the bulk of country music, unless you want to hear me crap all over it.
- Nick... I was destined to have this name since it's the one that all types of people have mistakenly called me throughout my life... Even those who've never heard or seen my last name, AKA not just a phonetic coincidence.
Beverage of choice?
Tamarind Jarritos, Blenheim's Ginger Ale, and Water
Best thing about the Pacific NW? Worst thing?
Almost 20 years here, and I'm still the regions hugest cheerleader... From my Portland base, I have year round access to shred snow on Mt. Hood. Quick trips to experience the best surfy shred at Bachelor, or gnar line hero shred at Baker are also within reach! There's the most gorgeous playground of trails, waterfalls, and other natural treasures within the Columbia River Gorge. We also have one of the most amazing coastlines, and easy access to some of the best & most dynamic urban and outdoor experiences anyone could ask for... It's really temperate here, has 4 distinct seasons, mellow humidity / insect drama, and more world class skate parks than anywhere... Hell, I could go on for days. Appreciating how insanely fortunate we are is too easy... Even if the secret's out and a massive influx of vapid/disrespectful humanity stomps out, or shit's on what's made the area soo special. It's not the region's fault, just a certain percentage of our species... But even in that comparative respect, we're pretty dang lucky.
What would you do if you won the lottery and retired from Tactics?
Choke on Japow, and adventure across the world with my wife visiting and making new friends... Things I aspire to do anyhow without winning the lottery.
Anything else?
Duty Now for the Future!
Share