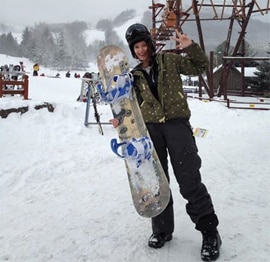 Position: Product Content
Best thing about the NW? Worst thing about the NW?
Best things: coffee and pints. Worst things: water is too cold.
Which brands are you backing?
Other than Tactics? As long as the gear is solid, I support it. I don't play favorites, it's always in flux.
Beverage of choice?
IZZE Pomegranate sparkling soda. Oh, and ALL the COFFEE!!!
Mac or PC?
MAC, mac, mac, mac.
What would you be doing if you weren't working at Tactics?
I would probably be traveling the west coast looking for good hills during the day and music venues at night hoping to find a place as chill as Eugene.
Five year plan?
Degree, learning skate tricks, and braving the cold water to surf.