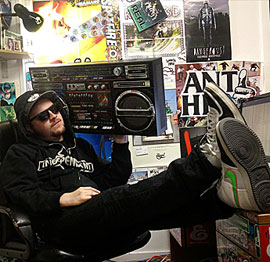 Position: Imaging Dept. Manager
What were you doing before you came to Tactics?
Running my own action figure design company, doing one of kind custom jobs for people and companies all over the world. Pretty much a glorified painter and sculptor, dont ask.
What would you be doing if you weren't working at Tactics?
Still stressing over commission work and sleeping in most likely.
Best thing about the NW? Worst thing about the NW?
Best? getting to own a bunch of winter jackets. Worst? having to own a bunch of winter jackets.
Which brands are you backing
My brands have always been Independent Trucks, Vans Shoes, Spitfire wheels, and Santa Cruz boards. The classics never fail.
Beverage of choice
RED BULL! Even if its one of the most expensive liquids on the planet. Im also a big fan of ice water.
Other hobbies?
Music, I play guitar. I also track 8-bit music using 80's video game consoles.
Favorite song/band right now?
Always has and always will be the (original) Misfits. But I also just cant seem to wake up right without listening to Madhouse by Anthrax each morning as I shower.
Skate, snowboard, or surf?
SKATE OR DIE!