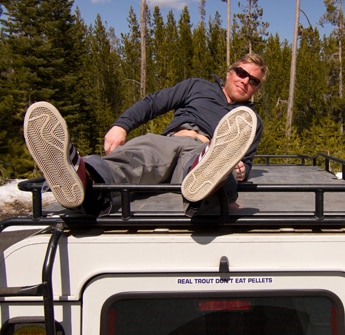 Position:

Co-Owner

What were you doing before you came to Tactics?
Pretending to be a lawyer.

Best thing about the NW? Worst thing about the NW?
Awe-inspiring mountains and ocean, each 1 1/2 hrs away from here. Hard to complain but the snow could be a little drier and the water a little warmer.

Which brands are you backing?
Tactics.

Best part about your job?
The Tactics family and selling stoke.

What would you say it is that you actually do here?
Increasingly, I try to stay out of the way.

Beverage of choice?
Just about anything hometown hero Ninkasi Brewing puts out.

How'd you get your job at Tactics?
Some guys I played soccer with asked if I wanted to get in on a little side business selling snowboarding gear through something called the Internet.

What would you do with $5,000?
Put it towards a Sprinter van camper conversion. Damn things are expensive.

Skate, snowboard, or surf?
All, but pretty mediocre across the board.

Daily sites your visit?
@#$% the internet.

Five year plan?
Stay healthy.

Mac or PC?
iPhone.