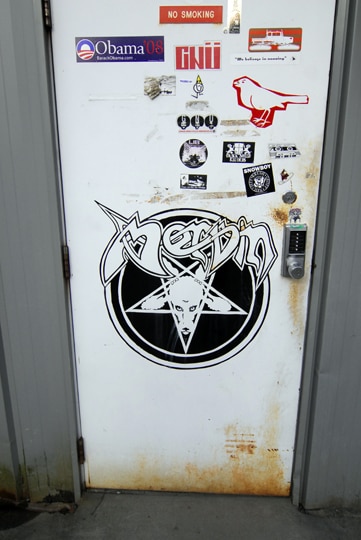 It isn't very often you get invited to go tour a company's manufacturing center so obviously when the offer came up we jumped at the chance. Turns out our shop guru Luke is really good at selling Lib Tech and Gnu snowboards and they wanted to take us up for a day of factory touring and another day of shredding at Hurricane Ridge. So before they could change their minds we jumped on the Grease Bus and headed north.
A huge box of Doughnuts, plenty of road soda, and one viewing of "Too Fast, Too Furious" later we were pulling down Banana Way and into the Mervin factory. The Mervin campus is hard to describe. Just imagine a wooded area filled with ramps, an amazing concrete volcano, super friendly employees and even more friendly animals EVERYWHERE. Not to mention every place you look there is a major piece of snowboarding history sitting in the corner, or up on a wall, or taking you on a tour.
After they explained the in's and out's of how they make their snowboards, and their obsessive commitment to recycling, we were treated to a stellar BBQ with the likes of Temple Cummins, and the rest of the staff as they came off their shifts. Then it was off to the mountain for the next day of pow riding and cornice drops.
Mervin runs their company the way a company should be run. Looking after their employees and the environment, while making some of the best snowboards on the market. We at Tactics couldn't be more stoked on em'. Huge thanks to Tim for making it all happen, and Chris with Grease Bus for driving our sorry, smelly asses with a smile.