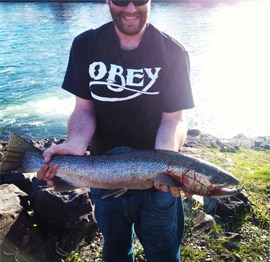 POSITION: Warehouse Manager
What would you be doing if you weren't working at Tactics?

Working at the U of O doing boring paperwork.
Which brands are you backing?

Definitely Nike SB, putting together great style and comfort with all the performance you need.
Do you have any nicknames? What are they? How'd you get them?

Mike Cheka, its better without an explanation.
Best part about your job?

The people I work with are hilarious and always have had a positive mindset.
What would you say it is that you actually do here?

Essentially my job is to do online customers' shopping for them.
How'd you get your job at Tactics?

Heard about an opening through my bro who works here also and decided to hop on it.
Other hobbies?

Snowboarding, basketball, disc golf, floating the river, camping, fishing, traveling.
Favorite song/band right now?

Nate Dogg: "Music and Me"
What would you do with $5,000?

Cash it in for all ones and go…