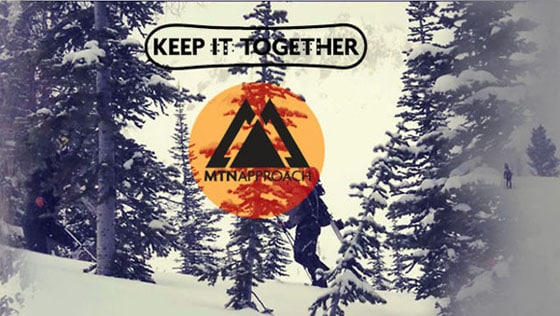 You might remember our splitboards post explaining the convenience of these 2-in-1 all terrain sleds…well, let us introduce you to the new kid in town that goes by the name of MTN Approach.
This new system is a progressive approach to ascending the untracked back country that keeps your snowboard intact as one complete rip stick for top performance while advancing a quick and convenient transition from ski to board, or vice versa. Don't believe us? Watch this video in which the new system takes one-half the time of the splitboard.
The new MTN Approach package comes with a sleek and fully strapped backpack designed to carry folded skis in a designated pocket next to your back, keeping the weight close to your center of gravity.
Included with each pack are a pair of dual-fold, locking cam hinge skis with integrated nylon skins, full camber and a complete weight that rivals a snowshoe. The bindings are constructed with the highest quality aluminum, a collapsible heel loop for side hill rigidity and straps made from a heavy duty extra wide polyurethane suited for any style of boot in cold weather conditions.
To learn even more about this new all inclusive system simply watch their How To Use video posted on MTN Approach's Vimeo channel.
So in the words of the Chuck Berry, "Roll Over Beethoven and tell Tschaikowsky the news," there's a new jack in town by the name of MTN Approach that is available at Tactics to get your back country excursions on the right path. Now more than ever, "Keep It Together".