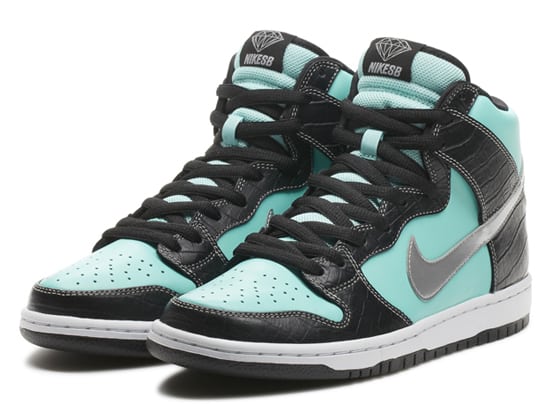 The rumors are true. After nearly 10 years of speculation since their last collaboration produced one of the most iconic shoes of all-time, Nike SB has once again teamed with the Diamond Supply Co. for another gem. Introducing the all-new Nike SB x Diamond Dunk High.
A meticulously-detailed upper showcasing Diamond's instantly-recognizable signature aqua amongst contrasting stark black synthetic paneling and chrome Swoosh, the limited-edition Nike SB x Diamond Dunk High features all the same style and timeless swagger of the classic original low updated for 2014 with a fresh new silhouette.
With improved functionality and durability in a high-top construction, this special release offers another chance to the fans of this legendary colorway who missed it the first time.
IMPORTANT RELEASE INFORMATION…
The Nike SB x Diamond Dunk High will be available for in-store purchase on February 8th at 11 a.m. on a first-come, first-served basis. There will be a one (1) pair per customer per day limit. If you want to come back to the shop on Sunday and swoop another pair, you're more than welcome to. Any remaining sizes will be available Monday at 12:00 p.m. PST by phone or online here.