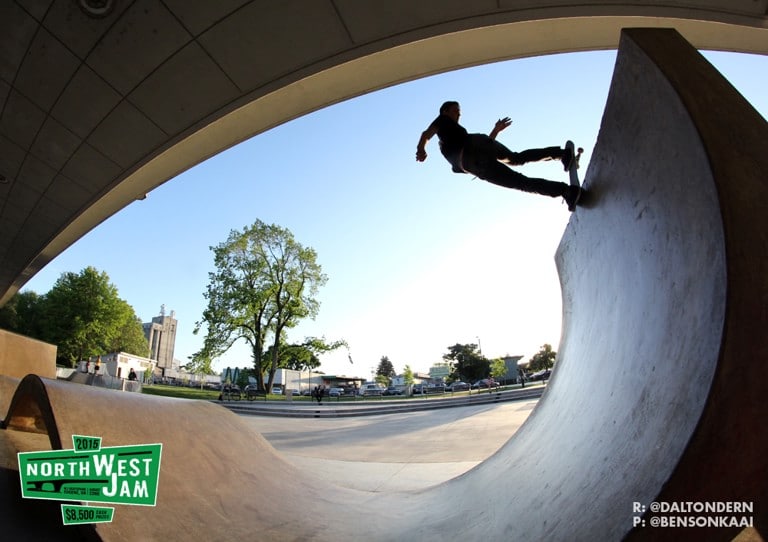 Eugene, Oregon – June 22, 2015
Tactics has announced dates for its 2015 Northwest Jam series skateboard competitions. The Eugene-based
boardshop will host two summer qualifiers, leading up to the second annual Northwest Jam, at
WJ Skatepark on Saturday, August 22.
Northwest Jam will feature skaters from more than eight states competing for $8,500 in cash prizes,
including a $1,000 best trick contest that will be open to everyone who attends this year's event. Now in
its second year, Northwest Jam 2015 will take on a bit more of an invitational flavor.
Tactics marketing director Jeremy Conant explained why the event will lean more heavily on invites this
year. "We were fortunate to work with longtime professionals like Charlie Wilkins and Emile Janicot for
our inaugural event," he said. "They thought we did an excellent job in year one, but challenged us to try
to attract even more of the best skaters on the west coast. So we invited many of last year's top riders
and reached out to a bunch of guys who didn't skate in Northwest Jam last summer."
So far, the response has been solid. Conant said he believes most of last year's finalists and podium
winners will be on hand, including Tactics team skaters Dalton Dern, who won the 2014 event, and Jake
Selover, who finished fourth. They'll be joined by some heavy hitters making their first appearance at
Northwest Jam, including Kevin Kowalski, Frank Shaw, Steven Reeves, Chris Gregson, Mason Merlino,
Jerry Gurney, Cody Lockwood and Johnny Turgesen.
"We were really stoked to see Steven, Johnny and Kevin among the first to register," said Tactics event
coordinator Kyle Richner. "But we didn't want to exclude local ams from getting a shot to compete in
the main event, so we'll host two qualifiers this summer and the top three in those events will be
entered into Northwest Jam."
The first of those qualifiers will be CONScrete Carnage, sponsored by Converse and held Saturday, July
18. The second qualifier will be Blood, Sweat & Bones, sponsored by Bones Wheels on Saturday, Aug. 8.
Both events will be hosted by Tactics at Eugene's WJ Skatepark. Registration is free to all skaters. More
info and registration for the qualifier events can be found at Tactics.com/nwjam.
Both Northwest Jam qualifiers will offer cash and prizes for the top three finishers in addition to
automatic qualification into the main event.
"We're not yet at a point where we can host an event with 200 skaters, and we want to attract as many
top pro/am guys as possible," Conant said. "We also didn't want to turn away many of the really good
am skaters from Eugene, Portland, Bend, Roseburg and everywhere in between. By hosting two
qualifiers, we're able to ensure everyone gets a shot to earn a spot in Northwest Jam."
Northwest Jam 2015 is sponsored by Nike SB, Independent Trucks, and Volcom, with additional support
by Lifeblood, Blood Wizard, Bones Bearings, Powell Peralta, Mini Logo, Spitfire, HUF, Chocolate and
Stance.
###
About Northwest Jam 2014
Tactics hosted the inaugural Northwest Jam on Aug. 2, 2014, at Eugene's WJ Skatepark. Nearly 60
skaters competed for $7,500. Final standings were 1) Dalton Dern, 2) Zion O'Friel, 3) Anakin Senn, 4)
Jake Selover and 5) Nick Peterson. Other finalists were Brendan Garcia, Danny Tumia, Sean Donnelly,
Kyle Ward, Tyler Martin, Trever Bates and Jason Singler.
See Tactics' video recap: https://youtu.be/xWKLzPIC45g
See Thrasher's video recap: https://youtu.be/S-6o8wsuhEc
See David Lobasyuk's epic last-second Best Trick Contest win for $1,000: https://youtu.be/vUE_9Tyu9rI
About Tactics
Founded in 1999, Tactics Boardshop is a privately held retailer located in Eugene, OR. Tactics specializes
in skateboarding, snowboarding, surfing, men's and women's clothing, apparel accessories and
footwear, with a single retail location in Eugene and shipping to all 50 states and 54 countries
worldwide. The company is a reseller for more than 320 action sports brands of gear and related
apparel, including Volcom, Burton, Nike SB, Vans, Adidas, RVCA, Billabong, Dakine, Nixon, Sector 9 and
686.
Connect with Tactics:
Facebook.com/TacticsFB
Twitter.com/Tactics
Instagram.com/Tactics
Youtube.com/TacticsBoardshop
Media Inquiries:
Jeremy Conant
Director of Marketing
jeremyc@tactics.com
541-349-0087
Corporate Address:
PO Box 1473
Eugene, OR 97440
Physical Address:
375 W. 4th Ave.
Eugene, OR 97401