Press Release – Eugene, Oregon – Wednesday, March 25, 2015
Tactics Boardshop continues supporting the next generation of local skateboarders by welcoming Josh Dulac to its team.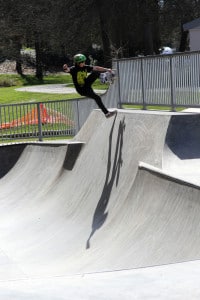 "We keep expanding team, and continue looking for bigger and bigger talent, but we haven't forgotten about the local scene," says Tactics skate team manager Benson Ka'ai. "Josh is the kind of skateboarder that reminds you the future is in good hands."
Dulac is the youngest Tactics team rider. Last summer, he took first in the City of Eugene's 13-16 age division skate competition and also placed second in Seattle's Lords of Seatown and Windell's Narly by Nature contests.
"Tactics has been my local shop since I started skating five years ago," says Dulac. "It's sick to be a part of something that's such a great place for skateboarders."
EVW Skate Apparel and Lib Tech Skateboards also ensure Josh stays laced up and rolling.
"I want to check out more parks in Oregon, Washington, and California this summer," says Dulac. "I also plan on entering as many comps as possible and doing my best while having fun."
Not a bad plan for the 12-year-old living in Thurston, OR.
Good luck this year, Josh. And welcome to the team.
---
ABOUT TACTICS BOARDSHOP
Founded in 1999, Tactics Boardshop is a privately held retailer located in Eugene, OR. Tactics specializes in snowboarding, skateboarding, surfing, men's and women's clothing, apparel accessories and footwear, with a single retail location in Eugene and shipping to all 50 states and 54 countries worldwide. The company is a reseller for more than 300 action sports brands of gear and related apparel, including Volcom, Burton, Nike, Vans, Adidas, RVCA, Billabong, Dakine, Nixon, Sector 9 and 686.
CONNECT WITH TACTICS.COM
Facebook.com/TacticsFB
Twitter.com/Tactics
Instagram.com/Tactics
Youtube.com/TacticsBoardshop
MEDIA INQUIRIES
Benson Ka'ai
Digital Marketing Manager
media@tactics.com
541-349-0087
CORPORATE ADDRESS
PO Box 1473
Eugene, OR 97440
Physical Address:
375 W. 4th Ave.
Eugene, OR 97401