Tactics Deck-A-Thlon | August 18, 2018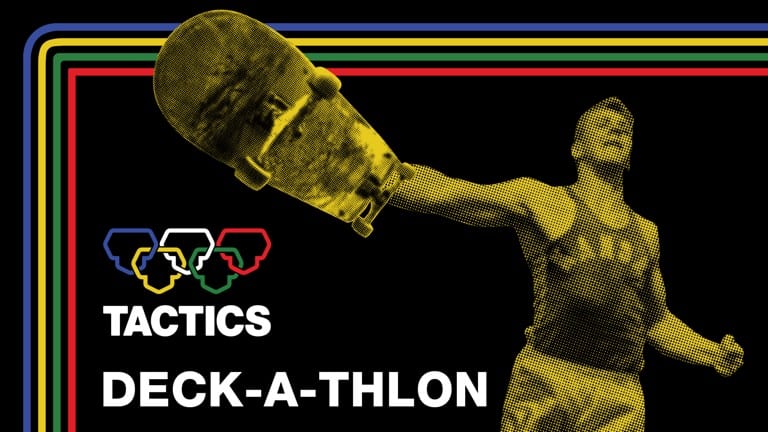 Toss the flashy medals and trash the podium ceremony with the national anthem thrumming in the background and you've got the Tactics Deck-A-Thlon 2018. Well, sort of.
This year, our fourth annual Deck-A-Thlon will feature new games and some crowd-pleasing classics, so if you didn't win last year, now's the time for a comeback.
Join us on Saturday, August 18 at WJ Skatepark in Eugene, OR for a 10 event competition featuring outlandish games that will test your skills, while staying connected to the roots of skateboarding, FUN. All ages and skill levels are welcome.


The line-up for this year's games includes:
Mall Grab Discuss:
Think hammer throw with your deck. One good toss gets you closer to the coveted "gold."
Longest Ollie:
Can you beat Jordan Hoffarts world record of 16 ½ ft? Go down in history as landing the 2018 Deck-A-Thlon's longest ollie.
Mongo Push Race:
We are switching it up with our Mongo push race, work out that other foot and you could win big.
Plus more brand-new events!
Winners in each category will score skate gear and other prizes from Deluxe Distribution brands including Spitfire, Anti-Hero, Thunder Trucks and more.
Sign-up starts at 12 p.m. Event starts at 1 p.m.
*All contestants must sign a waiver, if you are 17 or under you must have a waiver on file or a parent or guardian needs to be present to sign a waiver for you.
Related Posts