Tactics x Mike Giant Collection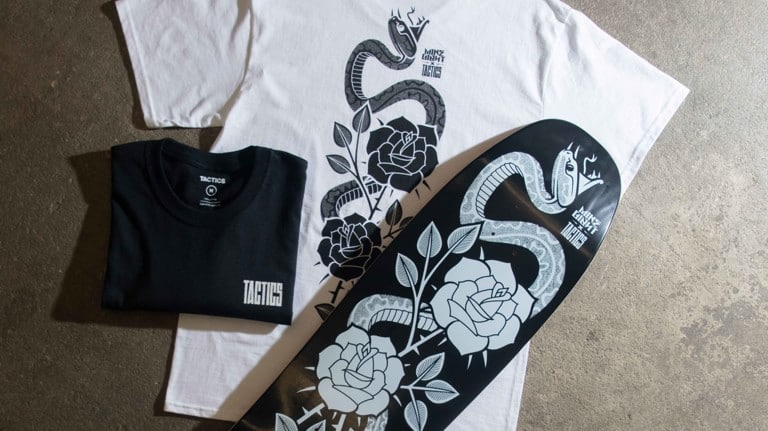 Mike Giant is a man who lives up to his name, at least in the art world. From his time creating graphics for Think Skateboards to becoming a prolific figure in the tattoo and graffiti art scenes, Mike has produced works across the world and made a name for himself along the way. We're stoked to connect with Mike on a new piece that celebrates the home of our newest shop, the city of roses, Portland, Oregon.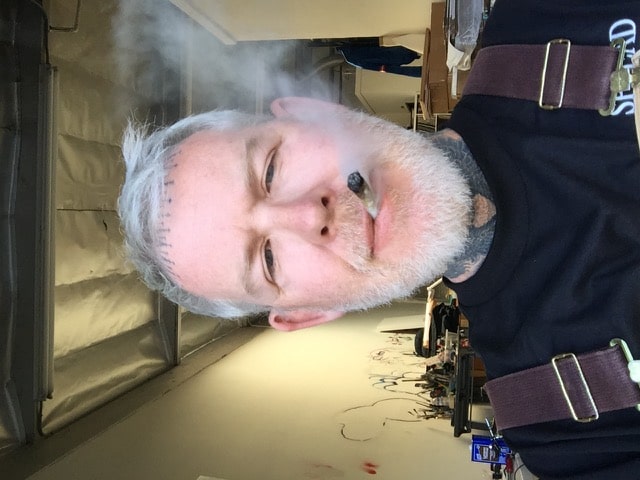 Hey Mike, what's a typical day consist of for an OG like yourself?
MG> I'm usually up around 8am. Shower, tea, vitamins. Drive 15 minutes to studio. Eat breakfast at the deli nearby and check my email. Smoke a joint then work in studio for an hour or two. Smoke another joint and keep working. Usually stop for lunch around 2:30pm. Smoke another J and continue working till around 5:30pm. Drive to beach, smoke another joint and bicycle til around 7:30pm. Head home, cook dinner, smoke the last joint of the day and watch an old movie on dvd. I usually drink a cider too, almost every night. And I'm usually in bed by 11pm.
Obviously, you are known for your work as a tattoo artist and create amazing works with sharpies and spray paint. Outside of these art forms, what else keeps you occupied and inspired?
MG> I've been building model cars pretty regularly for the last 5 years. They take forever to complete because I rarely can afford the time to work on them. I also practice my DJ skills almost every day.
What's your process for making art and where do you like to look for inspiration?
MG> Each medium has a different process, but I'll describe my process for illustrations on paper. First, I gather imagery that inspires me. Often this imagery is found online or on Instagram. Sometimes I work from photographs that I take. I just keep my eyes open for interesting things and people to interpret in black and white. I'll archive those images and arrange them in Photoshop. I'll also include sketches and text in the layouts. Then I'll print out the composition, tape it to the back of a new sheet of drawing paper, flip it over and begin inking the graphics with Sharpies on a light table. When inking is finished, I add my right thumbprint then sign and date the drawing in pencil.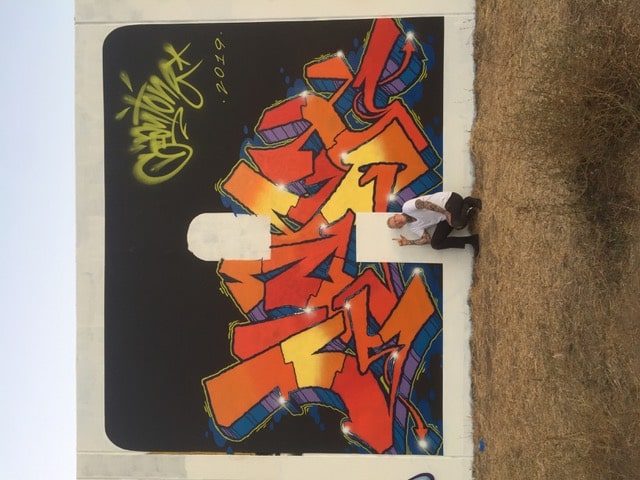 What were you doing before you made a name for yourself?
MG> Before I took on the name "Giant", I was just an ugly skater kid that worked at McDonald's, Sizzler, then skate shops. I took Honors courses in high school and got really good grades. I didn't experiment with drugs or alcohol at all. But I was always drawing.
What kinds of projects are you mostly working on these days?
MG> Graphics for cannabis companies, skate and streetwear brands. I'm working on a music project with DJ UFO out of San Francisco. I'm also gearing up to host a Twitch feed, as well as new things to post on my Podcast.
You spent a good deal of time creating skate graphics for Think. Which one or ones are you most proud of today?
MG> Off the top of my head, I'll say this one. It's a Chris Senn pro model. It's like a hot rod cobra snake against a psychedelic background. I think it was produced in 1996. I was a regular LSD user then. Wish I had a better photo of it.
If you could create a deck graphic for any pro ever, who would it be and why?
MG> Mark Gonzales. I've done some decks for Krooked, but nothing specifically for Mark. He's my favorite skateboarder of all time. I once saw him bombing a hill in San Francisco alone and couldn't believe how fucking fast he was going. No fear. Huge smile on his face. So much style! Such a great memory. I'd love to be able to kick it with him sometime. He seems like a lot of fun.
Any parting words of wisdom?
MG> A quote from Craig Stecyk:
"When the great power shortage comes and destroys the digital archive of the country and there are no more petrol chemicals available at your gas station for your drive around, you're going to find out that pedestrians and skateboarders and bike riders will inherit the universe."