Tactics x Creature | Q&A with Artist Brian Zager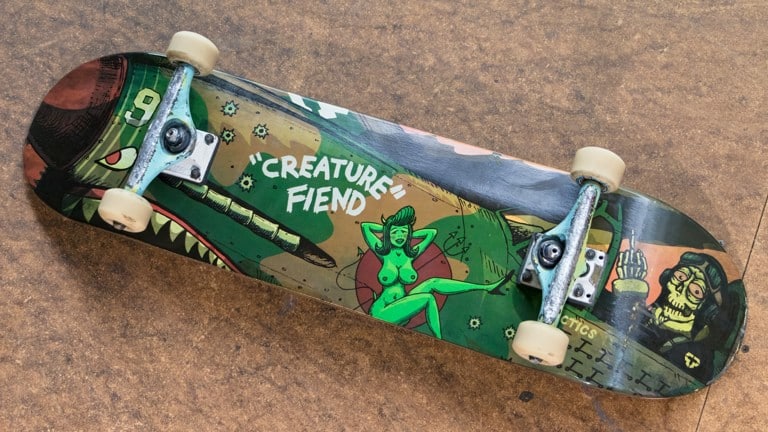 One of the coolest things we get to do at Tactics is showcase the talents of our local community, on and off the board. Our new Tactics x Creature Union collab deck was a perfect opportunity to do just that. When Brian Zager became part of the original shop crew at Tactics Bend, we knew it was only a matter of time until his art found its way onto our skate decks. With the release of his second deck graphic for Tactics, we figured we were overdue to circle up with him and dive into his art process, insights as a freelance artist, and the development of our Bend shop through its first 18 months.
Shop Tactics x Creature Union Bomber Deck
What's up Brian? Stoked to have another piece of your art on a Tactics deck. Can you tell us a little about the inspiration for the graphic?
The idea came from a general interest I've had in airplanes and warplanes ever since I could remember. My cousin was a Marine fighter pilot, so I think that spiked my interest early. I also wanted to do something that would relate to Creature as a brand, and I think WWII nose art is one of the coolest things ever. The fact that pilots and crews could personalize their planes was so cool and the art had such variety from cartoons to pinup girls to anti-axis messages. I was just stoked to bring all these interests together for this deck. Of course, we had to have a skeleton pilot and I threw in my own personal feelings towards scooters in there with the scooter kill count under the cockpit. You might say that gives this deck has a little bit of a political message. In case anyone is curious, the airplane on the deck is a P-40 Warhawk with the Flying Tiger's paint job.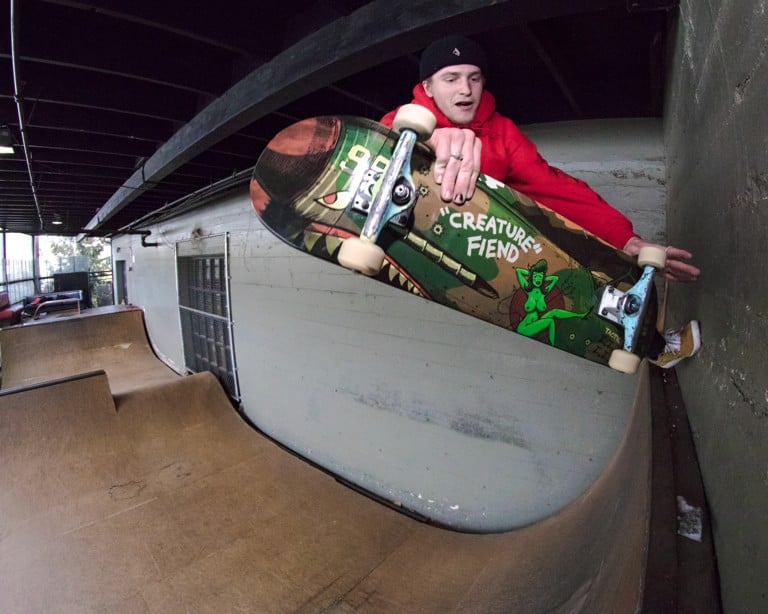 We're hyped on how it came together. What's your process like? Do you always start with a pencil sketch, then digitize? What other mediums do you work with?
Yeah, I definitely prefer the more analog methods of working. Starting with some rough pencil sketches, then slowly finalizing line work in ink, and then most of the time I color digitally. I'm really bad at color concepting so the easier I can fix mistakes, the easier I can put color down. It should also be noted that my rough sketches can be really rough. Like an infant's first time with a pencil bad. I recently started working with an iPad pro and iPencil and that's made my sketching come out a lot better and has streamlined the process a bit, but I can't say it's actually better then working with pens, pencils and paper.


Haha, your sketches definitely don't look infantile, and I appreciate that you still like to incorporate pen & pad instead of going full digital. Your skeleton character is a pretty consistent theme in your work. When did he/she first come to life? Why a skeleton?
Ha, this is a good one because the answer is extremely multifaceted. I think the easiest answer is that I just like to draw skulls and skeletons, and I am way better at drawing bones than actual human figures. I've been interested in skeletons since I was real little so there's kinda always been that infatuation with them. There's also a pretty consistent theme of skulls and bones in everything I like whether its skateboarding or punk music and most often the two are very related.
Also, people have been drawing/painting skulls and skeletons as long as humans have been creating art so with that, I like to think that I'm participating in this artistic tradition. I used to draw this furry creature I called a scum buddy but have never been as fulfilled or satisfied drawing that compared to skeletons so those have been kinda few and far between these days.
What's also interesting is that every anatomically correct human skeleton pretty much looks the same, but if you look at different illustrators, we've all seem to figure out how to depict skeletons our own way. At this point, I think I've figured out my own version that I can add emotion to, and while drawing something completely unoriginal, have figured out how to make it somewhat original, or at least be recognized as my own.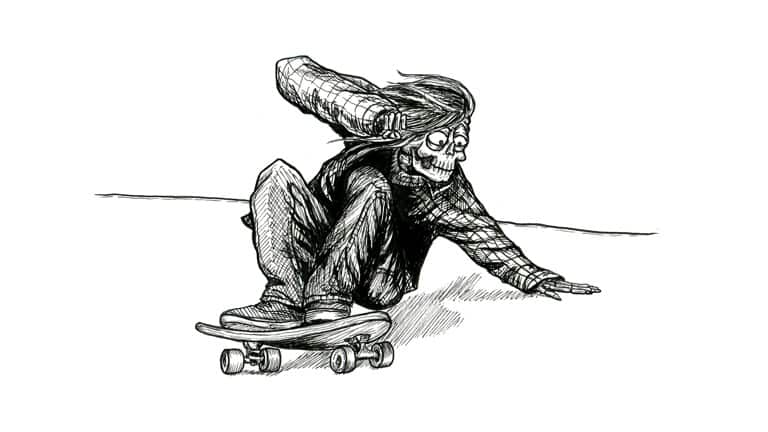 Haha, multifaceted indeed. We also see a large bounty of rainbow trout in your art. Ever gone snowboarding, skating, and fishing all in one day?
Hmmm, I honestly don't know if I have. I'm pretty sure I've either skated then fished or snowboarded then fished, but I don't think I've ever done all three. The hardest part about fishing is knowing when to stop so generally if I do go fish, that's probably it for the rest of the day.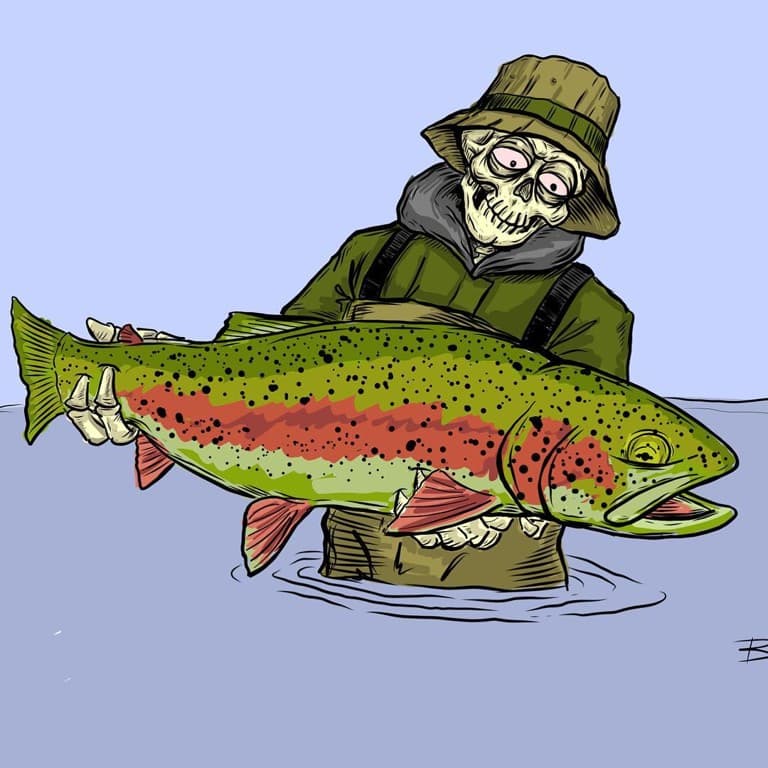 Everyone was hyped on your Tactics Trout Hold decks, so we brought it back with more colors and sizes. That was the first deck graphic you did for us, how did that project come to be?
Well truth be told, one of the big reasons I even wanted to start working at Tactics was for the possibility of sneaking my work into some Tactics gear. Now thinking back, I can't remember how it actually started but I was probably pestering Tactics lead designer Trever Hayes and hard goods buyer Brandon Clark about being involved in the mix. Trever and his design team kills it over in Eugene but I know they can get pretty busy too, so its rad to be able to help out if they need a more illustrated or detailed graphic made.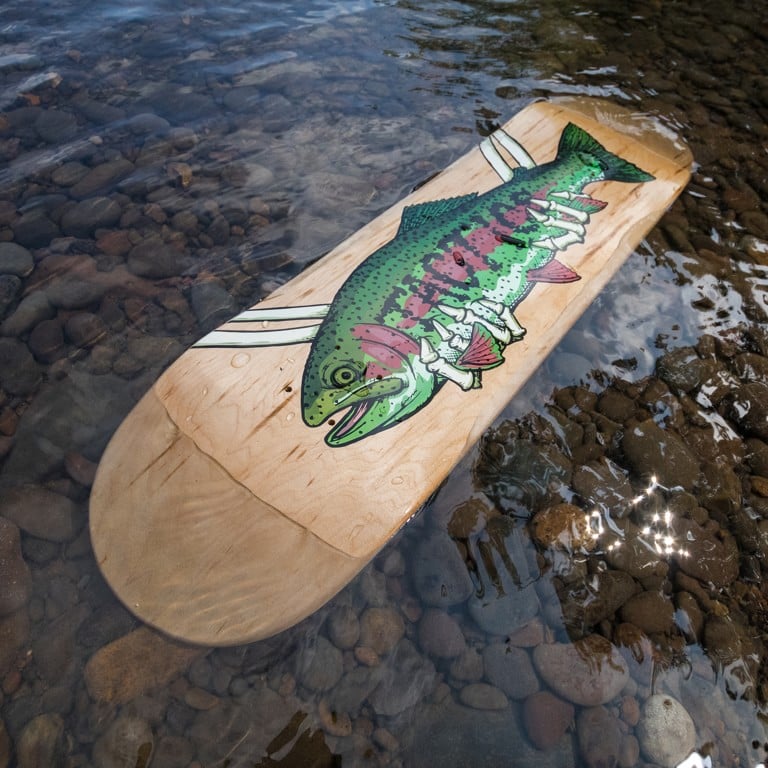 Well we're hyped to have you involved and we love mixing in different styles from multiple artists. I remember the first time I saw your art in the Bend shop and stumbled upon your Instagram, I was like, "dude, we should have him do a deck".
Since you started working at Tactics, we've seen your art pop up all over the place, on skate decks, snowboards, event posters, beer bottles, clothing, and even inked skin. What are your favorite types of projects to work on?
Hopefully this isn't too cliché, but I love making board graphics. To me, having your work on a skateboard is the highest honor in this industry. All my favorite illustrators are skateboard artists, so to me it's just following in their footsteps. Plus, the skate deck is the perfect medium! You can hang it on your wall and it looks amazing or you can skate it and that feels amazing!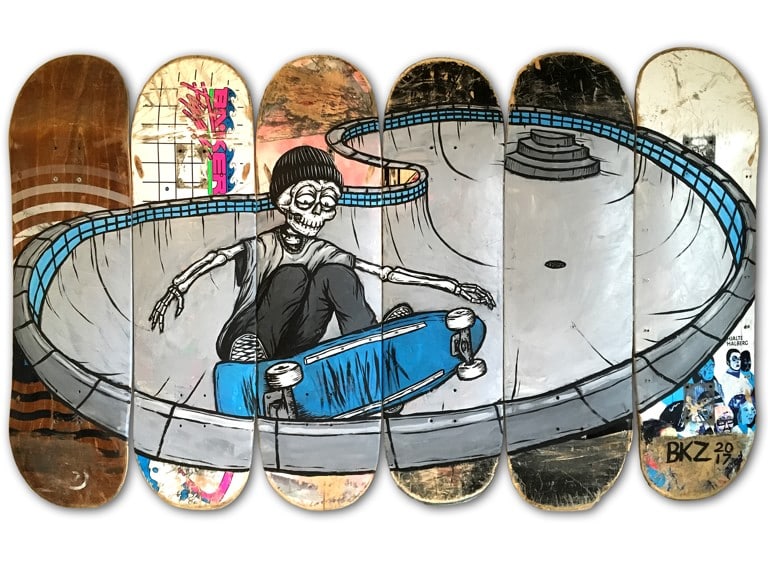 How did your art develop from a hobby and branch into a career? Any advice to other artists looking to get their work out there and build professional relationships?
It probably started by my freshman year of college but evolved over time. I went to school for business but realized almost immediately that it wasn't for me. I have always been interested in art so I quickly switched to an art major. At that time, I pretty much tried to do any job I could, free or paid, but most of them were free. I figured the more visible I could get my work, the better off I'd be in the long run. Once more people started reaching out for work it started getting easier to get paid for it as well.
It's definitely a unique struggle because you have to put value on your own work. You can't let the client do that or you'd never make any money. But there's a balance because some of the most fun projects won't have a big budget, so you have to decide if the project will be worth your time. Advice for other artists as well to myself is to not be afraid to really say what your work and time is worth. If you price correctly, it makes it easier for other artists in this industry to get paid what they're worth and we all win!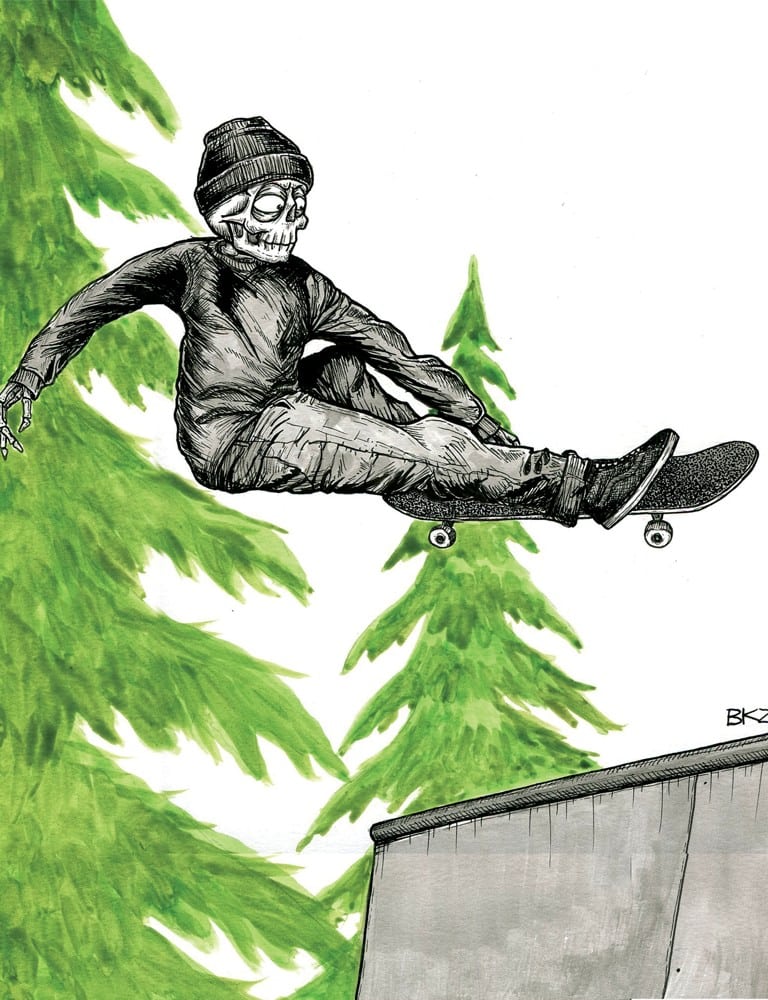 You seem to pretty strongly embody the Bend, OR culture. Skateboarding, snowboarding, fishing, beer, and everything outdoors. Are you a Bend native, or did you move here looking for people and places that vibed with your interests?
I'm east coast born and bred baby! Baltimore, Maryland of all places. I started working in a snowboard shop when I was 15 and adopted the mantra "East Coast till I die"! Haha, how naive of me. It was around this time I pretty much started letting snowboarding make all the hard life decisions for me. I went to college in Burlington, Vermont so that I was guaranteed to be around other people who wanted to snowboard all the time. Plus, Vermont held true to my creed. However, most of my friends I made in college had lived in Vermont their whole lives and were jonesing to leave by the time we graduated. So, after visiting some friends who had moved here, it was a pretty easy decision to grab my boards and head to Oregon.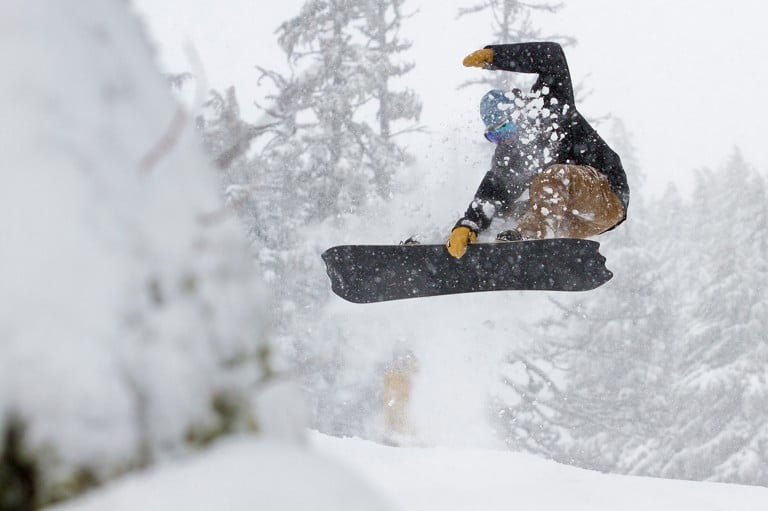 As part of the original crew at Tactics Bend, how have you seen the shop develop since the grand opening? How's the daily grind on the shop floor and what role do you see Tactics playing in the local community?
It's been a really cool experience to be part of the shop from day 1 and watch it evolve. I think we're pretty consistently picking up steam as more and more people realize we're here and have what you want (or at least can usually get what you want). Even before we opened, a lot of our snow team was already based in Bend and now they actually have a "home base" to come hang and pick up product. It's also cool to be able to sponsor a Bend crew of skateboarders. With two new skateparks in the past five years, the kids here are getting really good so it's awesome to be able to give them the opportunity to be sponsored by Tactics. It's also been great throwing events at the shop like movie premieres, BBQ's, and product release parties. It's those things that I find integral to really uniting a local scene whether it be snow or skate.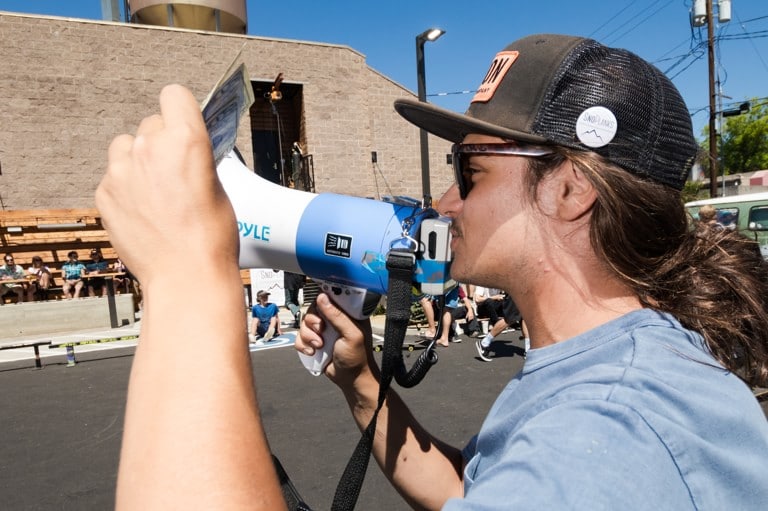 Any thanks, shoutouts, or things you'd like to add?
How about shout out to Trever and Brandon for hooking me up with sweet gigs like this and trusting I can come up with something worth looking at. Probably should also shout out Tactics co-owner Matt (Patton) for allowing us to have (green) boobs and middle fingers on a Tactics deck!
Shop Tactics x Creature Union Bomber Deck
Related Posts