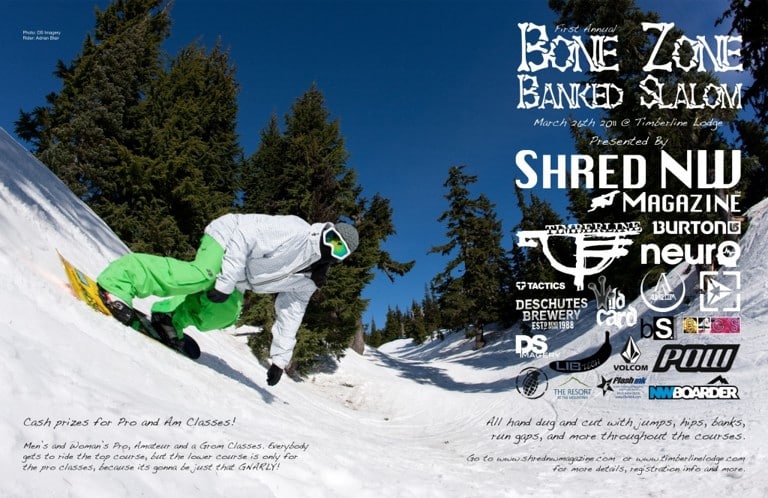 Banked Slalom fever is high in the Pacific North West and Tactics is proud to announce/ sponsor/ dominate the first ever Bone Zone Banked Slalom! Held up at Timberline lodge this hand cut course is going to offer one of the hairiest banked slaloms to ever hit the NW. Complete with gaps, hits, multiple routes, and a "pro only" section, this looks to not only be the funnest course in North America but also the bloodiest (probably). Presented by friends over at Shred NW mag, we couldn't be more stoked to finally have a legit banked event at Mt.Hood.
Here is what Shred NW had to say about it:
"Shred NW Magazine is putting on the First Annual Bone Zone Banked Slalom at Timberline Lodge on March 26th. Its gonna be an event to remember!
Snowboarders only. Men\'s and Woman\'s Pro, Amateur and a Grom Classes. 10 skiers in the token skier division (invite only). Everybody gets to ride the top course, but the lower course is only for the pro classes, because its gonna be just that GNARLY! Stay tuned for registration info.
Cash prizes for pro and am classes. All hand dug and cut with jumps, hips, banks, run gaps, finish-line booter, and more throughout the courses. Each racer gets a Racer Bag with lots of goodies, Wild Card Movies will be on hill to film the event, brands will be demoing gear from next year, plus lots of great giveaways and raffle items."
So come out March 26th to Timberline Lodge to participate in Mt.Hood's gnarliest slalom event with the Tactics team and crew.
Get full details here at Shred NW, or the official event Facebook Page.