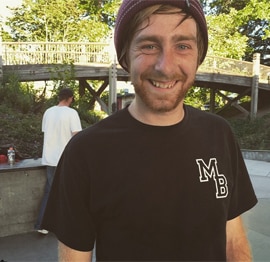 Position: Product Content / Skate Team
Best thing about the NW? Worst thing about the NW?
The PNW has the best skateparks and camping, but it rains too much.
Other hobbies?
Opera.
Favorite song/band right now?
Mozart.
Which brands are you backing?
Lakai,Cliche, Bones, Thunders.
Beverage of choice?
Dr. Pepper.
What would you be doing if you won the lottery and retired from Tactics?
I'd be skating to the Met every night with my wife.
Skate, snowboard, or surf?
Skate.