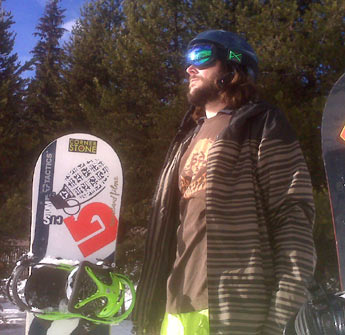 Position: Warehouse Manager
Which Tactics trip or event is the most memorable for you?
Definitely the snowboard trip last year. It was an all day party and everybody got a chance to shred together. Thanks Bob and Matt!
What were you doing before you came to Tactics?
Before Tactics I had a few jobs here and there. Mostly I've been involved in residential home building.
Best part about your job?
I would have to say the bad-ass crew we get to work with. Tactics is a family, we work and play together!
What would you say it is that you actually do here?
I manage the receiving of merch coming in and going out from the warehouse.
Beverage of choice?
Duh….. BEER!
Other hobbies?
I am currently involved with my band Hobo Soda and always look for people who want to get down on a jam sesh.
Skate/surf/snowboard/bike?
Skating hurts. Surf fo sho. Snowboarding is one of my biggest passions. BOARD 4 LIFE!