Union Snowboard Bindings 2019 | Photo Preview & Reviews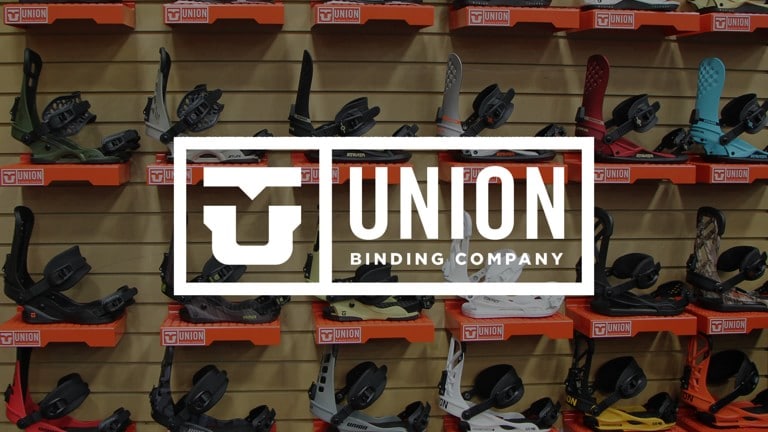 For winter 2018/2019, you will find a huge selection of Union Bindings at Tactics. From the bomb-proof Force which is built for riders chasing that 100 day season, to the freestyle tuned and Gigi Rüf approved Contact Pro, there is binding for riders of all skill levels and ride types.
New for 2019, Union is proud to introduce the Strata. Inspired by Torstein Horgmo, the Strata is built for all things freestyle and comes equipped with newly designed highback and "industry first," Fused Vaporlite Bushing system which creates a damp and forgiving ride for enhanced control and increased board feel.
For the ladies, Union has overhauled the Legacy with a new highback and female-specific design elements which provide increased comfort and support. From groomers to park laps and powder, the Legacy is a lightweight binding that any female rider can strap into and feel confident in.
Scroll down and check out all our rider reviews of the 2018/2019 Union Bindings that can be found at Tactics.
Shop All Union Snowboard Bindings
Union Strata 2019 Snowboard Binding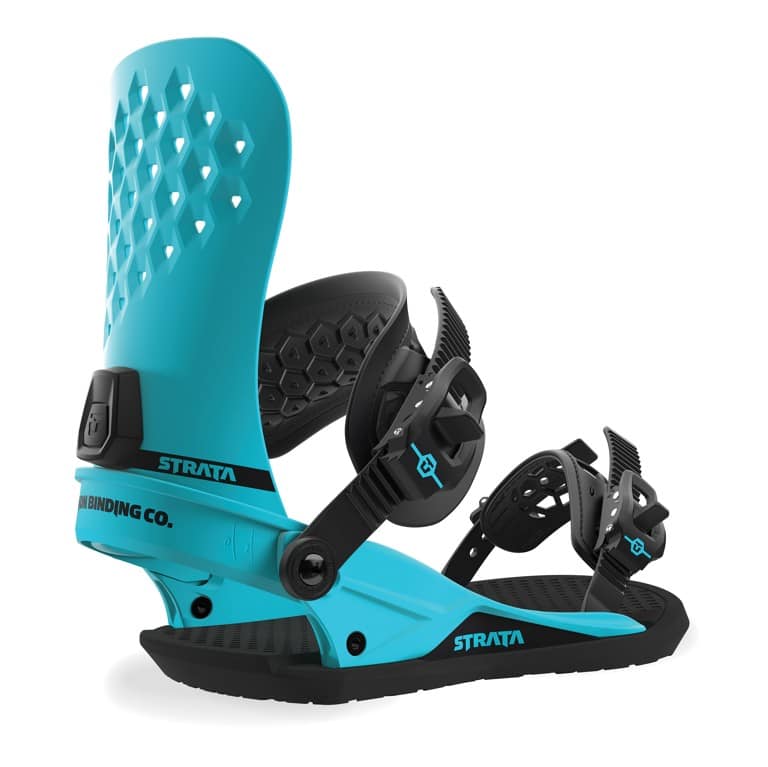 The all-new 2019 Union Strata is an all mountain-freestyle binding designed for intermediate and advanced riders who thrive on versatility and like to dip in and out of the park. This binding incorporates an "industry first" Fused Vaporlite Bushing System that sucks up chatter and vibrations more efficiently than standard EVA for an extremely smooth ride. The Forma ankle strap and Ultra Grip™ toe strap provide response and comfort while the Stage 6 Duraflex Baseplate offers remarkable strength in an incredibly lightweight package. Thanks to the patented Minidisk, only about 5% of the binding comes in contact with your board allowing your board to flex more naturally.
Union Atlas 2019 Snowboard Bindings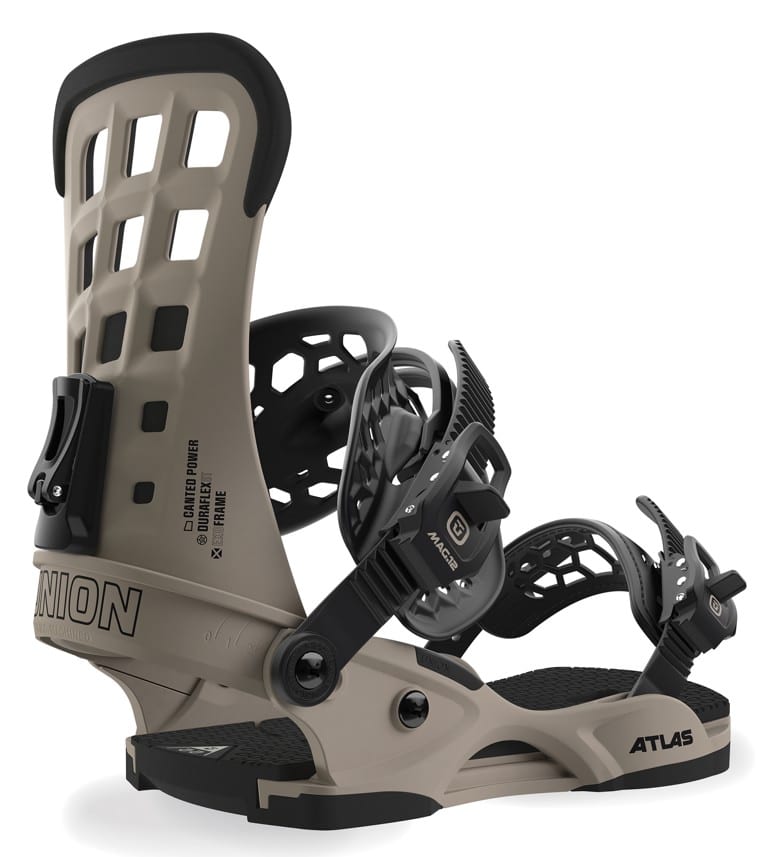 The Atlas is built with durability and unmatched precision for advanced all-mountain riders. A top choice of Union pro riders Kazu Kokubo and Arthur Longo, the Atlas features the all-new Exoframe Ankle Straps which provide comfort and strength for long days riding tough terrain. The ridged Stage 3 Duraflex baseplate and lightweight Atlas Highback work together to create the perfect blend of response and flexibility. That means these bindings provide the strength you need for powerful turns, while still having the flex and lateral movement you need for tweaking grabs.
Union Force 2019 Snowboard Bindings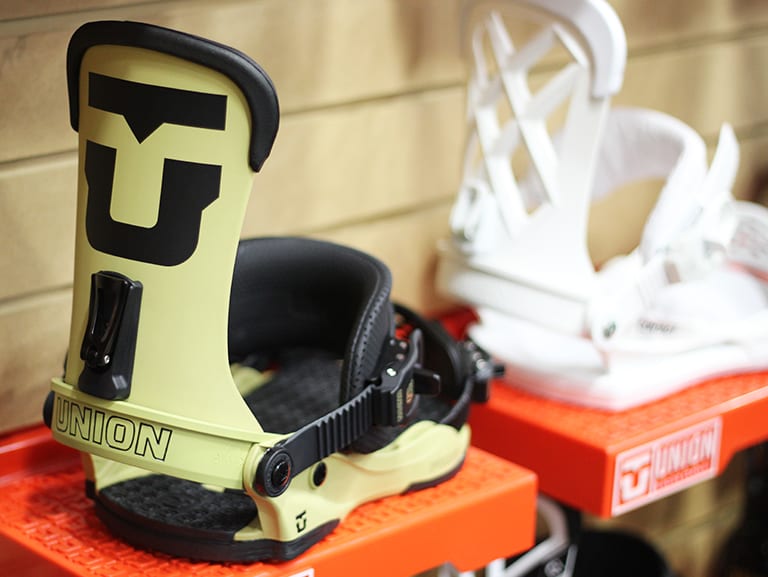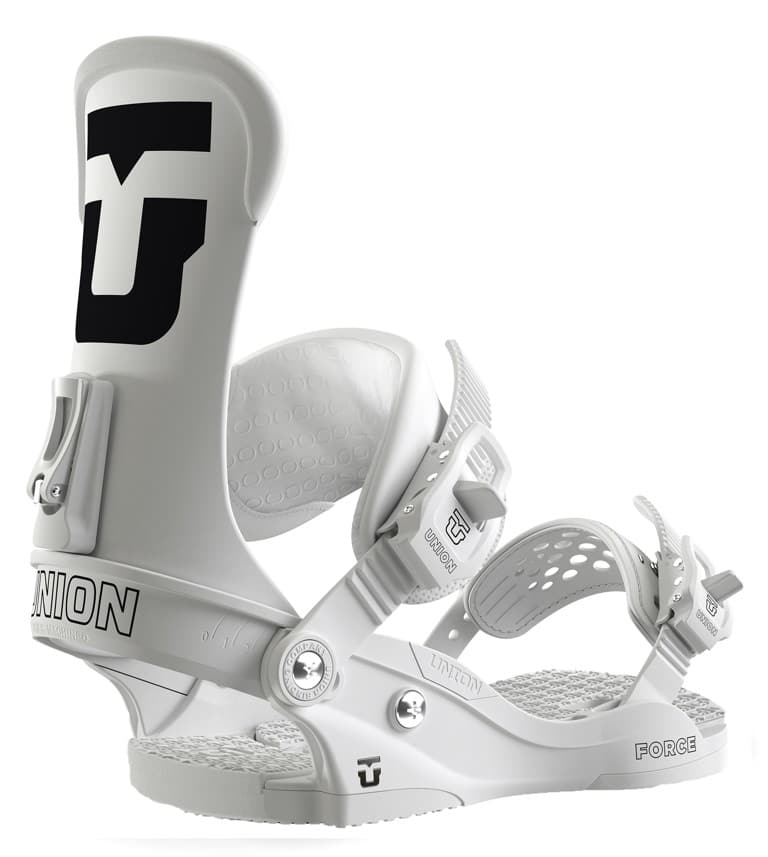 Proven to stand the test of time, the super durable Force binding is built for the rider chasing that 100 day season. The Force features a super responsive Stage 4 Duraflex ST base which provides excellent response and control for riding big terrain. The signature Force highback and Classic Plus ankle straps provide the natural flex and lateral movement you need to tweak grabs both inside and outside the park. Ridden by Union pros Dan Brisse and Kevin Backstrom and backed by a Limited Lifetime warranty, its hard not to be hyped on this bomb proof and highly versatile binding.
Union Trilogy 2019 Snowboard Bindings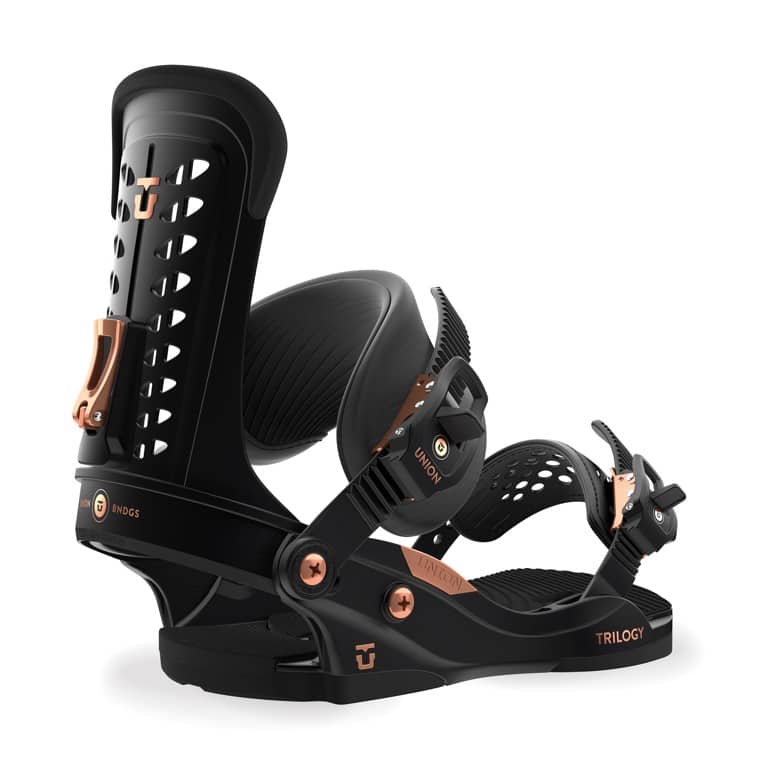 The Trilogy is an all-mountain freestyle binding designed for the ladies who like to push their limits across the whole mountain. Featuring female-specific design elements, the Ultra Grip™ Toe Strap and a Classic Plus Ankle Strap provide a comfortable and secure fit for long days lapping the park. Built for reliability and lightweight responsiveness, the Trilogy gets top marks. It's no wonder this binding is the top choice for Union pro, Jess Kimura.
Union Legacy 2019 Snowboard Bindings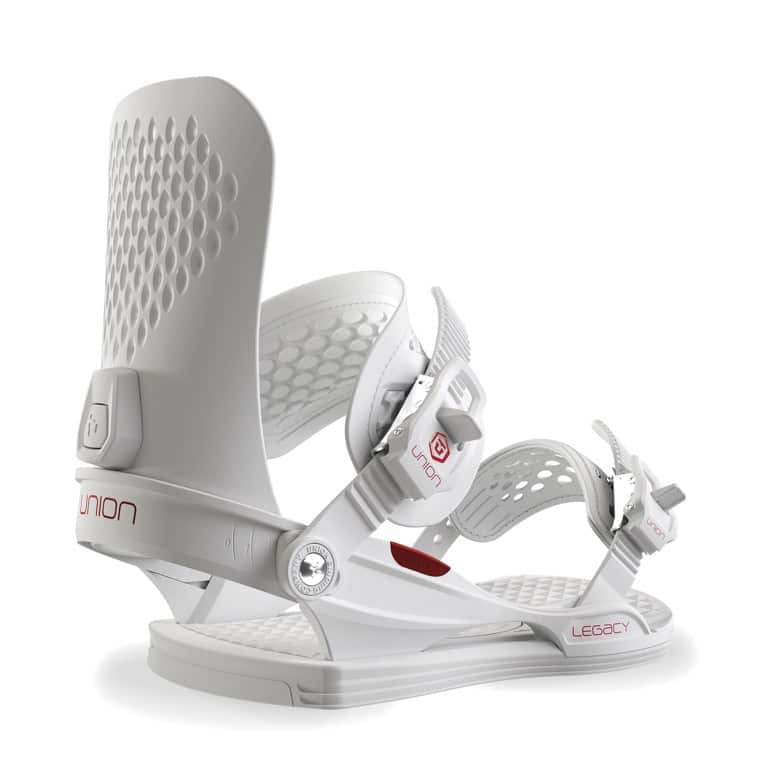 Designed for ladies who like big mountain lines, the Union Legacy offers a supportive and responsive fit in an extremely light package. The female-specific design incorporates Ultra Grip™ Toe Straps and Forma Ankle Straps to provide a secure and comfortable fit that allows effortless lateral movement with tool-free adjustment. An all-new Legacy Highback and Duraflex ST base work together in unison to provide the drive and support you need for riding challenging terrain. The Legacy is a versatile binding that comes in a lightweight package and is ready to take you anywhere on the mountain.
Union Contact Pro 2019 Snowboard Bindings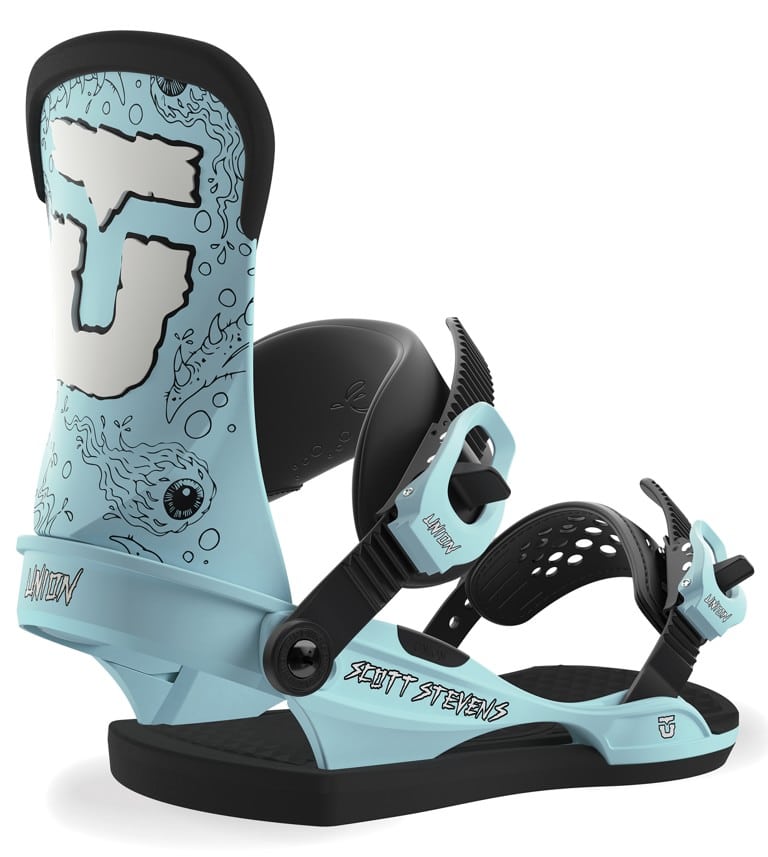 2019 Union Scott Stevens Pro Binding
Designed by Union pro rider Gigi Rüf, the Contact Pro is designed for the freestyle rider looking for total freedom and a surfy feel that does not lack support. Featuring the patented 5% Contact Area, dead spots are eliminated and board feel is enhanced which is a must when riding technical rail lines in the park. The lightweight Mini Disk Duraflex ST base plate makes this binding one of the lightest on the market, while the CP3 Highback provides excellent response and control for precise turns and easy maneuverability while ripping around the whole mountain.
2019 Union Contact Pro Binding
Union Expedition 2019 Splitboard Bindings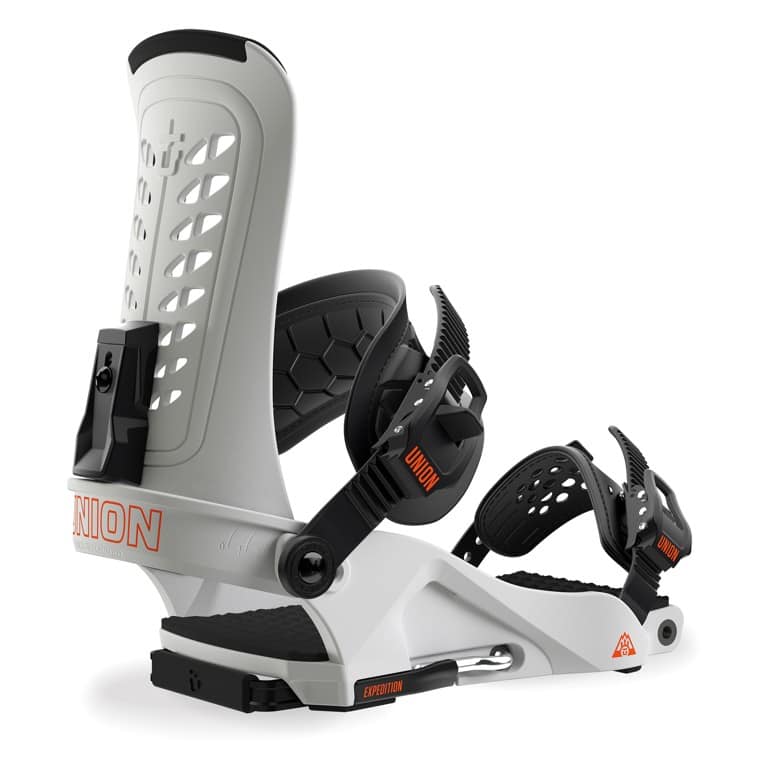 Headed into the backcountry? The Expedition is Unions take on splitboard bindings and utilizes a quick Split Pin System for more time shredding and less time converting from tour mode. The Split Pin System also provides added strength and torsional stiffness of your splitboard, while the Multizone Highback offers the perfect balance of flex and response. The Expedition is also Quiver Compliant, meaning these bindings will work on both split and non-split models. All you have to do is mount up the Union Expedition Split Discs to whatever board is in your quiver and slap these on in a pinch.
Related Posts