Paris
V3 43 Degree Longboard Trucks
Be the first to write a review
Overview
Paris is never done innovating. The Paris V3 have been further updated from the V2's to give it a stronger, more lean geometry. The low baseplate angle is geared specifically towards downhill riding, and gives a stable surf-like feel at high speeds.
Features
Manufacturing Technology
Molded Baseplate and Hanger
Branded Kingpins and Axles
Improved Kingpin Clearance
Divine 90a Urethane Bushings
Lifetime Guarantee
Details
Reverse Kingpin
Proprietary Alloy Forming Process
True T6 Heat Treatment
Stronger, Redesigned Hanger
SCM440 Alloy Steel Axles
Improved 90a Urethane Bushing Formula
Lighter, Reinforced Baseplate
Redesigned SCM435 Alloy Steel Kingpins
96a Hand Poured Urethane Pivot Cups
Matches Ride Height of Paris 50° Baseplates
43° Baseplate Marker Symbols
Ride Style
Downhill - Dreams of dry mountain pass roads, switchbacks for days, and the rush of going into a corner at top speed all take good machining to make a reality. Downhill trucks are meant to have no slop, giving you ultimate board control. Just think, lower degree equals stability. As the angle between the base plate and hanger is reduced, stability is gained so if you have graduated beyond your neighborhood 10 second rush, start thinking about getting some trucks specifically designed to give you confidence at speed. Often stocked with a barrel/barrel bushing assembly, this is the traditional downhill setup. However, don't forget to check out different bushing options and try different durometers until you get your board dialed-in to your needs. Downhill trucks eliminate slop with details like pivot cup and bushing seating, strong kingpin materials, and precision machining. This being said, don't overthink it. Some of the best skaters have no clue about their gear, they just skate every day. So, if you are looking to fulfill your need for speed, you are in the right spot.
Baseplate Angle
43° - Good for downhill use or for more stability on shorter wheel bases.
The truck angle you select will switch up how your board handles. A lower angle truck will require more lean for your turn, where as a higher angle will give you more turn for your lean. Generally speaking, higher angle trucks will be more suited for turning and carving and lower angle trucks will be more stable and better suited for speed.
Hanger Style
Raked Hanger (Offset) - Raked hangers change the way you approach a corner. With a raked hanger, you can lean a lot further into a turn without the truck responding, but once you lean in far enough you'll get a lot of turn, fast. Because your wheels will be going straight for longer you will go faster so if you can handle it, go for it!
Bushing Shape
Barrel/Barrel - The Barrel/Barrel bushing combination is designed for speed. This setup offers stability for technical downhill, allowing the rider to dive into corners. Remember to check compatibility with your truck choice.
Manufacturing Technology
Molded Baseplate and Hanger - Featuring a 356.2 virgin aluminum gravity molded baseplate with redesigned, faced hangers that have undergone a secondary heat treatment process for added strength and durability.
The baseplate also features a 6-hole design for your choice of new-school or old-school mounting.
Branded Kingpins and Axles - Branded Grade-8 steel kingpins and axles with tougher pivot cups for superior strength that's guaranteed to last.
Improved Kingpin Clearance - More kingpin clearance provides you with an easier, performance-driven carving experience.
Divine 90a Urethane Bushings - Featuring Paris's Divine 90a Urethane bushing formula for ultimate rebound and vibration dampening.
Lifetime Guarantee - Covered under manufacturer lifetime guarantee against breakage defects in hanger/base materials or workmanship. This lifetime warranty DOES NOT cover broken trucks due to abuse or neglect, damage caused by any modification done outside the manufacturer's facility, or lost or worn out parts due to lack of hardware maintenance.
Sorry, but getting your trucks run over by mom's SUV does not qualify as a manufacturer's defect.
Non-Compatible Risers
Risers from the following brands are not compatible with the baseplates of these trucks.
Arbor
,
Bear
,
Diamond
,
Dooks
,
Girl
,
Independent
,
Krooked
,
Lucky
,
Rayne
,
Sector 9
,
Thunder
Sizing Reference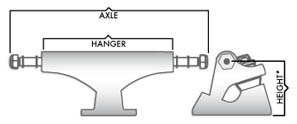 Note - Every skate truck brand represents their sizing a little differently, so it's easy to get confused. Take a look at this graphic and then reference the size chart.
Details
Reverse Kingpin - Reverse kingpins offer increased stability at high speeds and generally provide more strength when compared to traditionally mounted trucks. The reverse nature of the kingpin makes the truck higher and usually heavier, giving you the best controlled turns for downhill bombing.
Specs
| Size | 9.5 axle |
| --- | --- |
| Hanger (mm): | 180.0 |
| Board Range (in): | 9.0 - 10.0 |
| Height (mm): | 62.5 |
| Weight (g): | 484.2 |
---

More products from Paris