Overview
When you're trying to keep things on the down low, you'll need the Lowdown polarized sunglasses from Smith. Hide your eyes and embrace the sun in the sky. This bold youthful shape is enhanced with details that improve your performance when things heat up.
Features
Frame Tech
Hydrophilic Megol Nose Pad
Lens Tech
Carbonic TLT
Smith Polarization
Fit
Medium Fit / Medium Coverage
Curvature
6 Base Curvature - The base curvature corresponds to the curve of the lens. The higher the number, the higher the curve. 6 base styles have a "flatter" look. 8-9 base curves hug closer to the face.
Frame Material
eVolve Material - For more than 40 years Smith has been a steward of the outdoors. Great days in the water, dirt, and snow are made better when we protect the environment as well. By utilizing a new material called Rilsan Clear, they are creating lightweight, durable, and fully transparent sunglass frames that are over 53% bio-based.
Frame Tech
Hydrophilic Megol Nose Pad - Placed at the nose and on the temple tips, this material gently grips your skin to help keep your frame in place. The gripping power increases when introduced to moisture.
Lens Tech
Carbonic TLT - Engineered to be the most impact resistant lens material in the world. Carbonic TLT lenses are optically corrected to maximize visual clarity and object definition resulting in zero distortion; what you see is what you get.
Smith Polarization - Smith precisely aligns the polarized visual layer inside the lenses to filter out 99.9% of this "visual static" for a finely tuned, glare-free view of the action.
Frame Measurements (mm)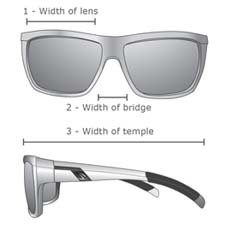 These measurements include the width of the lens, the width of the bridge and the width of the arms/temples.
Polarization
Pro Tip - Are polarized sunglasses better? Are they worth the price?
In many cases, yes. All sunglasses reduce brightness and block some amount of harmful UV rays. However, only polarized sunglasses are scientifically constructed to eliminate glare. Not just reduce it, but eliminate it. Polarized sunglasses are ideal for driving, where you get glare from your dash, your windshield and other vehicles. They perform much better than standard sunglasses – reducing eye strain and helping you see better – around water, snow, sand or any other reflective surroundings.