Overview
These classic aviator style sunglasses are slimmed down for a more snug fit with medium coverage. Their signature 9x3 toric ChormaPop™ lens offers superior clarity and definition, and the improved temple design and adjustable nose pads provide tailor fit comfort.
Features
Frame Tech
Adjustable Silicone Nose Pads
Lens Tech
Smith Polarization
Hydroleophobic Coating
Anti-Reflective Coating
ChromaPop
Fit
Small-Medium Fit / Medium Coverage
Curvature
V-Toric - V-Toric are technically advanced designs with a varying curvature which closely conforms to the contours of the face and enables a safe, distortion-free, optically sharp lateral vision.
Frame Material
Metal Frame - Classic silhouettes fused with modern design and lens technology. Sculptural elements are expertly cast into durable lightweight alloys. Choose from a wide range of world-class, investment-quality gold, silver, platinum and chrome tints. Adding these precious metals to your portfolio will, most certainly, improve your stock and up your game.
Frame Tech
Adjustable Silicone Nose Pads - Tailor fit adjustable nose pads allow you to customize the fit and feel of these sunglasses.
Lens Tech
Smith Polarization - Smith precisely aligns the polarized visual layer inside the lenses to filter out 99.9% of this "visual static" for a finely tuned, glare-free view of the action.
Hydroleophobic Coating - This coating repels moisture, grease and grime. A barrier between your lenses and the world. Water will bead up and dispense without streaking. Smudges from fingerprints are wiped clean easily.
Anti-Reflective Coating - Vacuum applied Anti-Reflective (A/R) coatings on the back side of the lens will eliminate bothersome sidelight reflections.
ChromaPop - By blocking color wave intersections as they pass through the lens ChromaPop is able to eliminate color confusion, enabling you to see the outside world with an unparalleled level of vibrancy.
Frame Measurements (mm)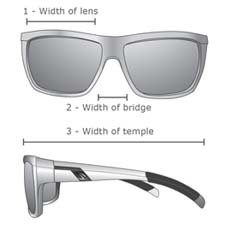 These measurements include the width of the lens, the width of the bridge and the width of the arms/temples.
Extra Info
Pro Tip - Are polarized sunglasses better? Are they worth the price?
In many cases, yes. All sunglasses reduce brightness and block some amount of harmful UV rays. However, only polarized sunglasses are scientifically constructed to eliminate glare. Not just reduce it, but eliminate it. Fully polarized sunglasses reduce eye strain and help you see better around water, snow, sand or any other reflective surroundings.