Snoplanks
Snofish Snowboard (Closeout) 2019
Sale: $593.95
(30% off, was $848.95)
Be the first to write a review
Overview
Handcrafted with lightweight, lively bamboo, this directional, medium-flex board floats with ease in powder but has enough shape that you can fly over the cat-trail and land with confidence. These boards are unique and offer an extremely surfy ride. The Snofish has a wider tail offering stability for hard-pack and switch-riding/landing. When you buy a Snofish, you're supporting an innovative company with locally sourced and sustainable materials, leaving a smaller carbon footprint.
Features
Key Features
Soft Camber with Early Rise
Even Keel
Core
Panda Pop / Truboo Core
VDS Rubber
Key Features

Soft Camber with Early Rise - This profile allows SnoPlanks to float effortlessly through variable conditions and still provide stability at high speeds. Hard charging and stable, effortless, and surf like in flow.
Even Keel - Slight lift towards the edge of the board creates a catch free ride that is unmatched in powder conditions, yet extremely stable on hard pack.
Core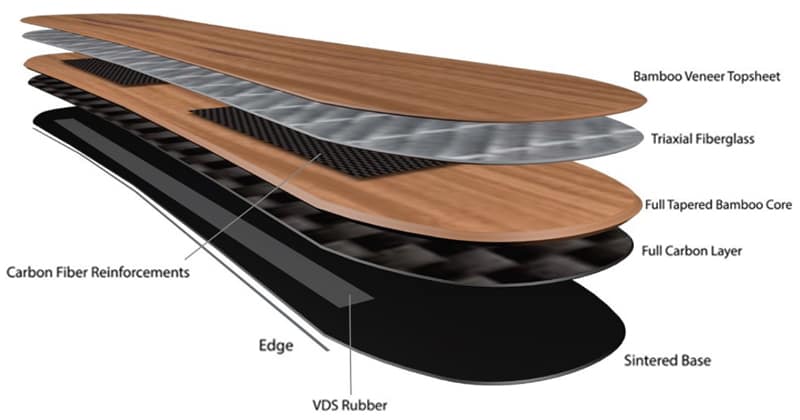 Panda Pop / Truboo Core - Solid bamboo from tip to tail layered with carbon fiber and fiberglass to create a light, strong, responsive core.
All SnoPlanks snowboards utilize three layers of solid bamboo that is laminated with fiberglass and carbon fiber for strength and responsiveness. The core is seamless from tip to tail creating a high performance board with increased float and pop in powder conditions.
VDS Rubber - VDS Rubber is put in every board to improve its strength and vibration damping ability.
Base
4001 Sintered - 4001 sintered black p-tex base for superior wax absorption and a greater overall glide.
Edge Tech
Surfwalls - Their bamboo sidewalls are factory waxed to perfection creating a fast and durable ride.
About SnoPlanks
Handcrafted - 100% handmade from start to finish in Bend, OR USA. By riders for riders.
Eco-Minded - SnoPlanks strives to be as environmentally sound as possible. Sustainable bamboo, entropy resin, and naturally sourced finishing oils give us both a high end product and a product that has a smaller carbon footprint. In addition scrap materials are utilized to make skateboards in the summer months in a collaborative effort with legendary shaper and surfer Gerry Lopez.
SnoPlanks proudly supports Protect Our Winters and gives a portion of every sale back to their organization in order to assist in the efforts to fight global climate change.
Refinishing Kit - Each plank comes with a refinishing kit that includes a bar of sidewall wax, a bamboo scraper, and care instructions. By simply waxing your sidewalls when hot waxing your base you will feel speed increase through your turns creating a better ride and a more surf like flow. It is amazing to watch the wear and tear of a season brushed away with a little bit of elbow grease and a fine tune.
Specs
| Size | 153 |
| --- | --- |
| Width: | Wide |
| Suggested Boot Size (US): | 16 & under |
| Waist Width (cm): | 28.0 |
| Stance Set Back (in): | 1.0 |
| Effective Edge (cm): | 100.0 |
| Tip Width (cm): | 33.0 |
| Tail Width (cm): | 29.0 |
---

More products from Snoplanks