Tensor
Mag Light Reflect Skateboard Trucks
Overview
The Tensor Mag Light skateboard trucks feature a hollow kingpin and axle to shave weight. The magnesium hanger and baseplate further reduce weight while maintaining the same strength as steel. The result is a truck that's 29% lighter than a traditional steel truck, but just as strong. What this means for you is easier ollies and a much lighter skateboard. That's a plus. A big plus.
Features
Axle/Kingpin Style
Hollow Axle & Kingpin - Hollow axle trucks cut down on the materials used in the axle, so your trucks feel lighter. Hollow kingpins further reduce weight while still maintaining strength in this critical area.
Non-Compatible Risers
Risers from the following brands are not compatible with the baseplates of these trucks.
Dooks
,
Independent
,
Krooked
,
Loaded
,
Lucky
,
Paris
,
Thunder
Sizing Reference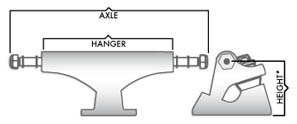 Note - Every skate truck brand represents their sizing a little differently, so it's easy to get confused. Take a look at this graphic and then reference the size chart.
Specs
| Size | 8.25 axle |
| --- | --- |
| Hanger (mm): | 143.6 |
| Board Range (in): | 8.0 - 8.5 |
| Height (mm): | 53.0 |
| Weight (g): | 267.6 |
Reviews
by
Aaron Anderson
in
Los Osos, CA
(Verified Buyer)
Posted on 4/8/2021
Tensor Mag Light Reflect Skateboard Trucks - black/silver (5.5)
Holmes, but Tensor Mag Light. I'm 45 and have been skating 39 years. Tensors are light enough for me to do my thang. I have 3 sets.
---

More from Tensor