Thunder Trucks
Team Lights Skateboard Trucks
$43.95
1 Review
(1)
Write a Review
Overview
The Team Lights come with aircraft grade hollow kingpins and Thunder's exclusive quick response geometry. But that's not it, thanks to the cast baseplate these trucks are 1mm higher than Thunder's traditional baseplate giving you the opportunity to get more pop when you snap your tail down. More pop means more air, more air is good.
Features
Details
Original Cast Baseplates
1mm Higher than Forged Baseplate Thunder Lights
Axle/Kingpin Style
Hollow Kingpin - Lightening the load, hollow kingpins reduce weight for lighter feeling trucks, while still maintaining strength in this critical area.
Origin
Made in the USA - Made in San Francisco, California
Non-Compatible Risers
Risers from the following brands are not compatible with the baseplates of these trucks.
Arbor
,
Diamond
,
Dooks
,
Girl
,
Independent
,
Loaded
,
Paris
,
Rayne
,
Sector 9
Sizing Reference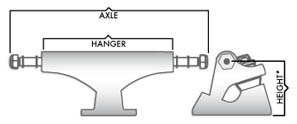 Note - Every skate truck brand represents their sizing a little differently, so it's easy to get confused. Take a look at this graphic and then reference the size chart.
Specs
| Size | 8.5 axle |
| --- | --- |
| Thunder Size: | 149 |
| Hanger (mm): | 150.0 |
| Board Range (in): | 8.25 - 8.75 |
| Height (mm): | 50.78 |
| Weight (g): | 354.6 |
Reviews
by
Joel Hager
in
KUNA, ID
(Verified Buyer)
Posted on 8/29/2018
Thunder Trucks Team Lights Skateboard Trucks - faction 148
The only gripe is the bushings are pretty soft. Had to get hard ones.