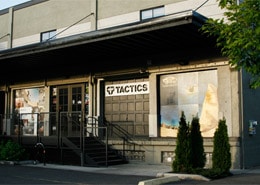 Located in a reclaimed warehouse in the historic Whitaker district is our Tactics store front in Eugene, Oregon. Draw a line between Seattle and San Francisco, look for I-5 and you'll see Eugene, half-way between the Cascade Mountains and the Pacific Ocean.
Feel free to come in and hang with us, wax your board, grip a deck, or watch a video on the flat screen. We also have racks of the latest snow, skate, and surf gear, shoes, and apparel. Check out the pictures below and take a look around. Click here for map and directions.
Location & Contact
375 W 4th Ave. Eugene, OR
541.349.0087 Tactics.com
Store Hours
Monday - Saturday, 11 a.m. to 7 p.m.
Sunday, 12 noon to 5 p.m.