Atlas
Ultralight 180mm 48 Degree Longboard Trucks
Pay in 4 interest-free payments of $9.99 with
.
Learn more

More from Atlas
---
Overview
The 180mm Ultralight longboard trucks from Atlas offer the performance of precision trucks at the price of casts. These tech-heavy trucks feature a massive ball pivot that delivers a 50% increase in load-bearing surface area, which provides more control than traditional pivots and easier turns.
These trucks feature the same quality, heavy duty strength you now expect from Atlas, the only difference being that these are far lighter than their normal trucks thanks to a hollow axle.
Features
Ride Style
Freeride
Carving/Cruising
Ball Pivot System
Friction free ride with perfectly consistent resistance from the bushings through your entire turn.
Self Cleaning Pivot Cup
Each pivot cup has three interior cleaning grooves that scrape debris from the ball reducing deformation over time.
I-Beam Hanger
A stiff hanger that will resist bending, ensures proper load transfer and delivers precise performance in your ride.
+3° Rake
This is the relationship between the axle and pivot cup, a positive rake such as this results in a more responsive truck.
Details
Forged Baseplate
Reverse Kingpin
Massive Ball Pivot
Top of Pivot Cup is Threaded for Easy Extraction
89a Durometer Bushings
Ride Style
Freeride - You need responsive trucks with charged rebound and a large turning radius to lock in stand up slides and pre-drifts like a boss. Freeride trucks generally have a higher degree between the base plate and axle. This gives the rider a steeper slope of motion for the hanger making it easier to get in and out of a slide with control. You will often find a barrel/cone or cone/cone bushing assembly in these trucks for the same reason. The higher the quality the truck is, the less you think about it as you ride. A good truck will give you more board feel and more stability. Don't forget to look at customizing the bushings to rider weight and skate style.
Carving/Cruising - Big California style carves, epic summertime adventures around the neighborhood, and everyday shenanigans are supported with trucks flexible enough to handle a bit of everything. You'll find these trucks often have a higher truck angle because this is what controls the amount of energy required to turn your board. Bigger angles equal big carves and a quick response to your movement. Stock bushings tend to be on the softer side for cruising making these trucks great for everyday use and for beginners alike. Make sure to go with the recommended truck width for your board to give you the best match and the most fun.
Hanger Style
Raked Hanger (Offset) - Raked hangers change the way you approach a corner. With a raked hanger, you can lean a lot further into a turn without the truck responding, but once you lean in far enough you'll get a lot of turn, fast. Because your wheels will be going straight for longer you will go faster so if you can handle it, go for it!
Baseplate Angle
48° - Happy medium between handling quick turns while maintaining stability at high speeds.
The truck angle you select will switch up how your board handles. A lower angle truck will require more lean for your turn, where as a higher angle will give you more turn for your lean. Generally speaking, higher angle trucks will be more suited for turning and carving and lower angle trucks will be more stable and better suited for speed.
Bushing Shape
Barrel/Barrel - The Barrel/Barrel bushing combination is designed for speed. This setup offers stability for technical downhill, allowing the rider to dive into corners. Remember to check compatibility with your truck choice.
Non-Compatible Risers
Risers from the following brands are not compatible with the baseplates of these trucks.
Arbor
,
Bear
,
Diamond
,
Dooks
,
Girl
,
Independent
,
Krooked
,
Lucky
,
Paris
,
Rayne
,
Sector 9
,
Thunder
Sizing Reference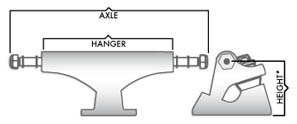 Note - Every skate truck brand represents their sizing a little differently, so it's easy to get confused. Take a look at this graphic and then reference the size chart.
Details
Forged Baseplate - Forged baseplates are compression molded, making them lighter, stronger, and more impact resistant in comparison to cast or poured-mold baseplates. Forged materials have a tighter molecular structure, letting them provide a stronger ride with less material. Forging also eliminates most common manufacturing defects and imperfections.
Reverse Kingpin - Reverse kingpins offer increased stability at high speeds and generally provide more strength when compared to traditionally mounted trucks. The reverse nature of the kingpin makes the truck higher and usually heavier, giving you the best controlled turns for downhill bombing.
Specs
| Size | 9.5 axle |
| --- | --- |
| Hanger (mm): | 180.0 |
| Board Range (in): | 9.25 - 9.75 |
| Height (mm): | 73.0 |
| Weight (g): | 496.8 |
Reviews
New buyer to these trucks, not bad!
by
Tyler Dubbert
in
Fort Collins, CO
(Verified Buyer)
Posted on 2/11/2020
Atlas Ultralight 180mm 48 Degree Longboard Trucks - dark grey
Only complaint I have is that the bushings are a bit too hard for my taste. You can always replace them, I replaced mine with Orangatang Orange Nipples and I love the ride much better. Super light too!
by
Michael Lake
in
Delaware, OH
(Verified Buyer)
Posted on 10/8/2018
Atlas Ultralight 180mm 48 Degree Longboard Trucks - black
The atlas ultralights are as is in the name... ULTRA-LIGHT. They barely add any weight to my setup. One complaint I do have is that the stock bushings aren't by any means great, but they can be replaced, or used as you like.
Asked by
thatcharles
on 1/23/2018
will the axle snap due to it being hollow when attempting flip tricks?
Answered by
Graig A
(Tactics Employee) on 1/23/2018
These will still be able to withstand flip tricks but are also longboard trucks and we do offer other skate trucks that are hollow which are made more for flip tricks and grinding.
Asked by
Dor Segev
on 11/5/2017
Hi
What is the weight of the truck?
Thanks
Answered by
James D
(Tactics Employee) on 11/6/2017