Bear
Grizzly Gen 5 45 Degree Longboard Trucks
2 Reviews
(2)
Write a Review
Overview
The Grizzly Gen 5 longboard trucks from Bear have been redesigned to focus on strength, stability and weight reduction. Improvements include a stronger heat treated axle with a less restrictive bushing seat.
The Gen 5 has a 45° baseplate angle to handle the speed of modern downhill longboarding, and comes with an 8-hole mounting system to accommodate both old and new-school drill patterns. This pattern can also be used to adjust wheel bases by the inch. Gen 5 trucks are engineered for strength and stability, utilizing more than 10 years of Bear innovation.
Features
Specialized Casting Formula
Completely new aluminum alloy formula, specifically mixed for this truck and not pulled from some generic melted down block.
Widened Rear Baseplate Legs
Added thickness to eliminate baseplate warping and help withstand heavy impacts.
Effective Bushing Seat
Fully-wrapped leaning system with bushing base lock-in. This allows you to get extra lean and no turning restrictions. Compatible with most bushings.
Flippable Hanger
The positive (standard) and negative (flipped) leverage axle placement helps you change your setup from general carving to a stable hill bombing machine in seconds.
Ride Style
Downhill - Dreams of dry mountain pass roads, switchbacks for days, and the rush of going into a corner at top speed all take good machining to make a reality. Downhill trucks are meant to have no slop, giving you ultimate board control. Just think, lower degree equals stability. As the angle between the base plate and hanger is reduced, stability is gained so if you have graduated beyond your neighborhood 10 second rush, start thinking about getting some trucks specifically designed to give you confidence at speed. Often stocked with a barrel/barrel bushing assembly, this is the traditional downhill setup. However, don't forget to check out different bushing options and try different durometers until you get your board dialed-in to your needs. Downhill trucks eliminate slop with details like pivot cup and bushing seating, strong kingpin materials, and precision machining. This being said, don't overthink it. Some of the best skaters have no clue about their gear, they just skate every day. So, if you are looking to fulfill your need for speed, you are in the right spot.
Baseplate Angle
45° - Good for downhill use or for more stability on shorter wheel bases.
The truck angle you select will switch up how your board handles. A lower angle truck will require more lean for your turn, where as a higher angle will give you more turn for your lean. Generally speaking, higher angle trucks will be more suited for turning and carving and lower angle trucks will be more stable and better suited for speed.
Hanger Style
Raked Hanger (Offset) - Raked hangers change the way you approach a corner. With a raked hanger, you can lean a lot further into a turn without the truck responding, but once you lean in far enough you'll get a lot of turn, fast. Because your wheels will be going straight for longer you will go faster so if you can handle it, go for it!
Bushing Shape
Barrel/Barrel - The Barrel/Barrel bushing combination is designed for speed. This setup offers stability for technical downhill, allowing the rider to dive into corners. Remember to check compatibility with your truck choice.
Non-Compatible Risers
Risers from the following brands are not compatible with the baseplates of these trucks.
Sizing Reference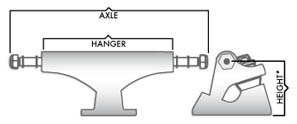 Note - Every skate truck brand represents their sizing a little differently, so it's easy to get confused. Take a look at this graphic and then reference the size chart.
Details
Reverse Kingpin - Reverse kingpins offer increased stability at high speeds and generally provide more strength when compared to traditionally mounted trucks. The reverse nature of the kingpin makes the truck higher and usually heavier, giving you the best controlled turns for downhill bombing.
Specs
| Size | 9.75 axle |
| --- | --- |
| Hanger (mm): | 181.0 |
| Board Range (in): | 9.5 + |
| Height (mm): | 66.0 |
| Weight (g): | 454.0 |
Reviews
by
Anthony Coleman
(Verified Buyer)
Posted on 8/22/2018
Bear Grizzly Gen 5 45 Degree Longboard Trucks - black/blue 181mm
These trucks definitely feel like a step up from the bear 852's. I always had an issue finding the perfect middle ground when I rode the 852's because of how high of a degree the baseplate was . unflipped the bears felt nimble and responsive but once you started gaining speed they became unstable fast. Flipping the hangar made them feel super dead. So with the 845's being a lower degree baseplate you get the best of both worlds as far as stability and responsiveness goes. them having a lower degree removes the need to flip the hangar which, you still can do if you want a even more stable rife. I'm currently trying to dial in my bushing setup my current bushing set up isn't the best. Just ordered some venom downhill bushings 87A and 90A so I can start to do more speed stuff. The slide on the 845's feels a lot smother and has a more predictable initiation and and hook up than the 852's did. I'd say the bear 845's are a good truck from anybody that's looking to take a step up from the 852's and get into higher speed riding.
by
Josh Pepple
in
Indianapolis, IN
(Verified Buyer)
Posted on 5/28/2016
Bear Grizzly Gen 5 45 Degree Longboard Trucks - black 181mm
Great trucks. Good for higher speed riding. I'm not a downhiller so I can't say how well they preform past 30mph. The hangers can be flipped to an even lower angle. They turn on a dime but maintain good stability at high speeds. Real impressed.
---

More products from Bear