224 Reviews
(224)
Write a Review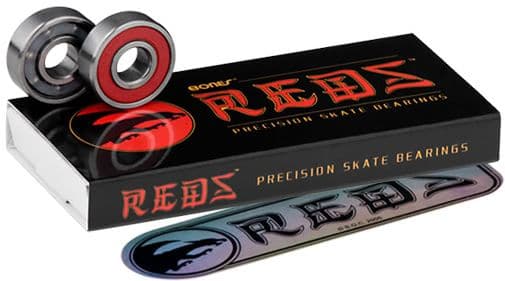 Overview
Bones REDS skate bearings are some of the best popularly priced bearings on the market. REDS were developed to be an affordable alternative to Bones Swiss. They feature ground and super finished chromium steel balls and races, a high speed, removable nylon ball retainer, Bones Speed Cream lubricant and a removable, non-contact, frictionless red rubber shield.
This combination of Skate Rated design, quality components and careful quality control makes them faster, smoother and longer lasting than any other skateboard bearing in their price range, so let the good times roll with Bones REDS.
Features
Details
Strong, Fast, Longer Lasting Construction
Pre-Lubricated with Speed Cream
Easy Cleaning and Relubricating
Removable High Speed Nylon Ball Cage
Non-contact Removable Rubber Shield
Bones Skate Rated Design and Quality
Type
Skate Rated™ - Skate Rated bearings are engineered and tested by Bones Wheels to withstand the high impacts of hard landings and the high side loads of turning. These bearings roll faster and last longer than bearings that use the ABEC rating system. To give Skate Rated bearings an ABEC rating would ignore all the improvements Bones has made over the industry standard. Skate Rated bearings are specifically designed for skateboarding, not electric motors.
Reviews
4.8
Overall Rating
Reviewed by
224
customers
Best bearings for the price
Posted on 7/19/2021
Bones Bearings Reds Skateboard Bearings
Owned these before from a different website and man just get these some of the best for the price it's either these or G3/G2
by
Webb
in
Florida
(Verified Buyer)
Posted on 7/12/2021
Bones Bearings Reds Skateboard Bearings - red
Really impressed with how smooth these bearings ride. I have only used generic bearings up until now.
Best value for speed and quality!
by
James King
in
Pflugerville, TX
(Verified Buyer)
Posted on 6/20/2021
Bones Bearings Reds Skateboard Bearings - red
These are probably the best bearings out there for the money in my opinion. Keeps good speed and great cost
by
David Wells
in
Somerville, MA
(Verified Buyer)
Posted on 5/8/2021
Bones Bearings Reds Skateboard Bearings - red
5* best bang for your buck in bearings. Reds, always.
by
Shawn McCauley
in
Edmonds, WA
(Verified Buyer)
Posted on 5/5/2021
Bones Bearings Reds Skateboard Bearings - red
Never had issues with Reds freezing or bearings going bad. It's usually always the discount bearings that go bad. If you clean your wheels and bearings regularly Reds should be virtually indestructible.
by
Matt Lamb
(Verified Buyer)
Posted on 4/26/2021
Bones Bearings Reds Skateboard Bearings - red
Can't beat the price and quality.
Asked by
Cheryl
on 5/3/2018
Answered by
Graig A
(Tactics Employee) on 5/3/2018
These are standard 608 bearing sizing, as all of our bearings will be, and these are 8mm inner diameter, 22mm outer diameter and a 7mm width.
Asked by
Estoudt12
on 6/9/2016
I'm sort of new, but these work with every size wheel, right?
Answered by
Elijah W
(Tactics Employee) on 6/9/2016
These bearings will fit in any skateboard or longboard wheel.
Answered by
Kyle R
(Tactics Employee) on 4/10/2014
"Bones Bearings are Skate Rated™ not ABEC rated."

Bones® Bearings are the skate industry leader and favorite choice of professional skaters, and have been since their development in 1981. Over the past years, Bones® Swiss have become legendary because of their superior speed quality, and longevity. Even though Bones Swiss are the top rated bearing in skating, we don't give them an ABEC rating. There is a good reason for this... thank you for asking.

The ABEC rating system has been around for the last 35 years. The purpose of the ABEC committee (Annular Bearing Engineers Committee) is not to test every manufacturer's bearings and proclaim them good or bad, but to establish dimensions, tolerances, geometry, and noise standards for bearings in an attempt to aid industrial bearing manufacturers and users in the production, comparison and selection of bearings for general applications. However, since every bearing is used in a different manner and environment, bearings should be redesigned or "customized" for special uses (like skating). The ABEC rating system is not intended to be the only criteria used for selecting bearings for use in specialized applications like skating. It is only one of the tools a bearing designer can use if it is appropriate for the application.

The ABEC rating system includes grades 1,3,5,7, and 9. The higher the ABEC rating, the tighter the tolerances are, making the bearing a more precision part. High precision and small tolerances are required for bearings to function at very high RPM, in products like high speed routers that must spin at 20 to 30,000 RPM. In an application like this, an ABEC - 7 or 9 bearing rating may be appropriate. However, a skateboard with 54mm wheels turning 20,000 RPM will be traveling about 127 MPH! Since virtually all skating is done under 30 MPH, the realistic maximum RPM your skate bearings will see is about 4700 RPM and probably 90% of skating occurs under 2000 RPM. Thus, very high precision is not required at skating speeds.

The dimensions and tolerances controlled by the ABEC standards include the diameters and widths of the raceways, their shapes to some extent and the smoothness of the running surfaces. The ABEC rating system ignores side loading, impact resistance, materials selection and grade, appropriateness of lubrication, ball retainer type, grade of ball, the clearance between the balls and the races, installation requirements, and the need for maintenance and cleaning. All these bearing design requirements are very important to the performance of your skate bearing, even though the ABEC rating says nothing about them.

From our testing of bearings and our years of experience designing bearings for skating, we know that there can be a HUGE difference between the performance of two bearings that both have the same ABEC rating. Indeed, we have found that in many cases, bearings with high ABEC ratings don't perform as well as others with lower ABEC ratings in a skate wheel. Thus, reliance on ABEC ratings alone can lead skaters and dealers to choose a bad bearing for skating over a good bearing for skating. That is why we don't use the ABEC rating system at all. In essence, the ABEC rating is irrelevant to the performance of a skate bearing when it is used as the sole criteria for selection.

To explain this another way, choosing an ABEC-7 or 9 bearing for skating would be like choosing an Indy car to race in the "Baja 500" because Indy cars can go fast and are of high precision. It isn't that the Indy car isn't a good piece of equipment, just that it is not designed for off road use and so it would quickly fail when its suspension breaks and its engine clogs with dirt.

Bones® Bearings out perform all other bearings because we went to the trouble to skate rate Bones® Swiss and Bones® REDS®, not just select an ABEC rated industrial bearing and put a customized plastic shield on it. Bones have been completely redesigned for skating from the ground up and are built to Bones® specifications that include Skate Rated™ components, lubricants, tolerances and clearances.

Bones® Bearings component parts are engineered and tested to withstand the high impacts of hard landings, the high side loads of turning, and (to the extent possible) the dirt of skate environments. As a result, Bones® roll faster and last longer than other bearings. To merely give Bones® an ABEC rating would be to ignore all the improvements we have engineered into Bones and the resulting difference between Bones and standard ABEC rated bearings. Since there is no appropriate ABEC rating that will reflect the superior quality of Bones® Bearings, we have given them their own rating, Skate Rating™, to let you know that Bones® Bearings are special and made just for skaters like you, not for electric motors."
-George A. Powell
Asked by
jaerbear
on 1/21/2013
Does this come with bearing spacers?
Answered by
Kyle R
(Tactics Employee) on 2/26/2013
No these do not come with bearing spacers.
---

More from Bones Bearings