Bullet
Standard Longboard Skate Trucks
Be the first to write a review
Overview
High quality, high performance reverse kingpin truck for cruisers and longboards.
Features
Ride Style
Carving/Cruising - Big California style carves, epic summertime adventures around the neighborhood, and everyday shenanigans are supported with trucks flexible enough to handle a bit of everything. You'll find these trucks often have a higher truck angle because this is what controls the amount of energy required to turn your board. Bigger angles equal big carves and a quick response to your movement. Stock bushings tend to be on the softer side for cruising making these trucks great for everyday use and for beginners alike. Make sure to go with the recommended truck width for your board to give you the best match and the most fun.
Sizing Reference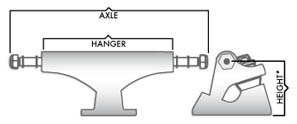 Note - Every skate truck brand represents their sizing a little differently, so it's easy to get confused. Take a look at this graphic and then reference the size chart.
Specs
| Size | 10.0 axle |
| --- | --- |
| Bullet Size: | 9.8 |
| Board Range (in): | 9.5 - 10.5 |
| Height (mm): | 60.0 |
| Weight (g): | 453.0 |
---

More from Bullet