Enjoi
Negative Space 7.0 Mini Complete Skateboard
$59.95
Be the first to write a review
Features
Profile
Mellow Concave / Steep Kick
Construction
Traditional 7-Ply - Traditional for a reason. Standard 7-ply wood construction gives you a deck that's durable, sturdy and poppy without breaking the bank.
Trucks
Tensor Trucks - These lightweight trucks make it easier to blast ollies, and the responsive feel let's you turn on a dime.
Wheels
Enjoi 52mm Wheels - Designed for smooth sidewalk cruising or shredding in the skate park. These Enjoi 52mm wheels are quality poured for an easy ride over any surface.
Bearings
ABEC 5 Bearings - Smooth, fast and durable, ABEC 5 bearings are essentially the go-to bearing for most street skaters.
Profile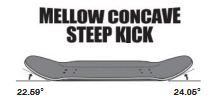 Mellow Concave / Steep Kick
Details
92a Soft Bushings - Specially formulated to be softer for improved turning.
Kid's Skateboards - Scaled-down to fit smaller, younger skaters with easier turning for quicker learning and progression.
Specs
| Size | 7.0 |
| --- | --- |
| Width (in): | 7.0 |
| Length (in): | 29.0 |
| Wheelbase (in): | 12.25 |
| Nose (in): | 6.375 |
| Tail (in): | 6.125 |
| Concave (in): | .25 |
---

More products from Enjoi