Footprint

Kingfoam Flat 5mm Insoles

Be the first to write a review
Overview
Step into space-age support with the Footprint Kingfoam Flat 5mm Insoles. Used by NASA to protect their highly sensitive equipment, these insoles can absorb over 90% of shock energy. Replace your shoe's stock insoles with the Kingfoam insoles to provide cloud-like softness and optimal shock absorption.
Material
Military-Grade UHD (Ultra High Density) Memory Foam
Key Features
Kingfoam
Determining Your Foot Type
Arch Compatibility
Best for Mid to High Arches
Details
90% of Shock Energy Absorption
Features
Key Features
Kingfoam - All Footprint soles are covered from heel to toe with Kingfoam, a military grade urethane that converts the force of impacts into heat. Absorbs 90% of impact energy and protects against bruises and joint damage.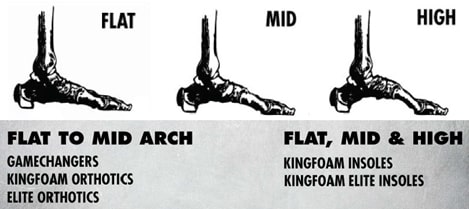 Determining Your Foot Type
---
More from Footprint