Footprint
Kingfoam Orthotics Elite Insoles
Pay in 4 interest-free payments of $12.49 with
.
Learn more
More from Footprint
---
Overview
These Elite Orthotic insoles from Footprint have the same formula that is used for NASA. The thick insoles have shock absorption to withstand high impacts, and the incorporated Kingfoam military-grade urethane administers increased protection. With built-in arch support and heat moldability, these insoles will contour to your feet, with each step.
Features
Key Features
Arch Support
Kingfoam
Determining Your Foot Type
Details
TPU Layer Under Fabric for Extreme Durability
6mm Toe to 8mm Heel
Absorbed More Than 90% of Shock Energy in Astm F1614 lab Tests
Key Features
Arch Support - These orthotics help prevent over-pronation, which assists the body in proper alignment. This relieves daily fatigue, sore joints and allows longer performance.
Kingfoam - All Footprint soles are covered from heel to toe with Kingfoam, a military grade urethane that converts the force of impacts into heat. Absorbs 90% of impact energy and protects against bruises and joint damage.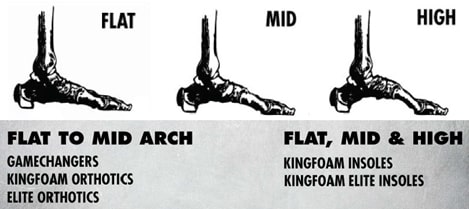 Determining Your Foot Type
Reviews
by
JSP
in
Torrance, CA
(Verified Buyer)
Posted on 6/18/2022
Footprint Kingfoam Orthotics Elite Insoles - colours collectiv aja
Tried out FP after wanting to try out the superior impact protection (or so they advertise). I'm on the older side and need good arch support which these do NOT have. Imagine just having a bunch of extra material stuffed in the arch area of a soft insole and calling that arch support. This is exactly what it feels like. Sure they may absorb a bowling ball better than Remind insoles but the arch support in Remind is exponentially superior (probably because their insole is on the stiffer side). I may try these someday again but not in the near future. For us older people, support > cushion
by
Alan Moore
in
Hamilton, OH
(Verified Buyer)
Posted on 5/2/2022
Footprint Kingfoam Orthotics Elite Insoles - paul hart early worm
These arent your standard insolses that you get from walmart. These are way better. I suffer from a lot of foot, ankle, knee, and hip pain from abusing my body as a teenager and my military service. It has gotten bad enough that I can hardly hold down a job because of the pain im in the next day, im barely able to stand.
As soon as I slipped these into my shoes and stood up all of that pain went away instantly, I was able to run and jump again without hurting for the next 3 hours. I am not sure exactly what technology they are using but it works and it works great.