Gullwing
Reverse Longboard Trucks
Pay in 4 interest-free payments of $12.49 with
.
Learn more
Overview
Reverse longboard trucks offer more control at high speed than standard kingpin trucks. Gullwing used design insights from Josh Rolf of Munkae Trucks to optimize these trucks for freeride and downhill performance. However, if you don't consider yourself a speed demon, the beauty of reverse trucks is that they're also great for cruising, take it easy turbo.
Features
Ride Style
Freeride
Downhill
Carving/Cruising
Stock Bushings
RAD 89a Double Barrel Bushings
Ride Style
Freeride - You need responsive trucks with charged rebound and a large turning radius to lock in stand up slides and pre-drifts like a boss. Freeride trucks generally have a higher degree between the base plate and axle. This gives the rider a steeper slope of motion for the hanger making it easier to get in and out of a slide with control. You will often find a barrel/cone or cone/cone bushing assembly in these trucks for the same reason. The higher the quality the truck is, the less you think about it as you ride. A good truck will give you more board feel and more stability. Don't forget to look at customizing the bushings to rider weight and skate style.
Downhill - Dreams of dry mountain pass roads, switchbacks for days, and the rush of going into a corner at top speed all take good machining to make a reality. Downhill trucks are meant to have no slop, giving you ultimate board control. Just think, lower degree equals stability. As the angle between the base plate and hanger is reduced, stability is gained so if you have graduated beyond your neighborhood 10 second rush, start thinking about getting some trucks specifically designed to give you confidence at speed. Often stocked with a barrel/barrel bushing assembly, this is the traditional downhill setup. However, don't forget to check out different bushing options and try different durometers until you get your board dialed-in to your needs. Downhill trucks eliminate slop with details like pivot cup and bushing seating, strong kingpin materials, and precision machining. This being said, don't overthink it. Some of the best skaters have no clue about their gear, they just skate every day. So, if you are looking to fulfill your need for speed, you are in the right spot.
Carving/Cruising - Big California style carves, epic summertime adventures around the neighborhood, and everyday shenanigans are supported with trucks flexible enough to handle a bit of everything. You'll find these trucks often have a higher truck angle because this is what controls the amount of energy required to turn your board. Bigger angles equal big carves and a quick response to your movement. Stock bushings tend to be on the softer side for cruising making these trucks great for everyday use and for beginners alike. Make sure to go with the recommended truck width for your board to give you the best match and the most fun.
Baseplate Angle
47° - Happy medium between handling quick turns while maintaining stability at high speeds.
The truck angle you select will switch up how your board handles. A lower angle truck will require more lean for your turn, where as a higher angle will give you more turn for your lean. Generally speaking, higher angle trucks will be more suited for turning and carving and lower angle trucks will be more stable and better suited for speed.
Hanger Style
Raked Hanger (Offset) - Raked hangers change the way you approach a corner. With a raked hanger, you can lean a lot further into a turn without the truck responding, but once you lean in far enough you'll get a lot of turn, fast. Because your wheels will be going straight for longer you will go faster so if you can handle it, go for it!
Bushing Shape
Barrel/Barrel - The Barrel/Barrel bushing combination is designed for speed. This setup offers stability for technical downhill, allowing the rider to dive into corners. Remember to check compatibility with your truck choice.
Non-Compatible Risers
Risers from the following brands are not compatible with the baseplates of these trucks.
Sizing Reference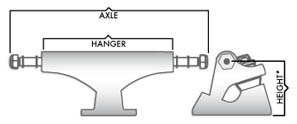 Note - Every skate truck brand represents their sizing a little differently, so it's easy to get confused. Take a look at this graphic and then reference the size chart.
Details
Reverse Kingpin - Reverse kingpins offer increased stability at high speeds and generally provide more strength when compared to traditionally mounted trucks. The reverse nature of the kingpin makes the truck higher and usually heavier, giving you the best controlled turns for downhill bombing.
Specs
| Size | 10.0 axle |
| --- | --- |
| Hanger (mm): | 183.0 |
| Board Range (in): | 9.75 - 10.75 |
| Height (mm): | 69.0 |
| Weight (g): | 566.5 |
Reviews
by
Alfonso
(Verified Buyer)
Posted on 10/6/2020
Gullwing Reverse Longboard Trucks - aqua v1
I put these on my 10in shape board and was very impressed by how well these trucks held up and I was pretty mean running them down grassy hills. Definitely worth it!!
by
Ron Shinn
in
CARMICHAEL, CA
(Verified Buyer)
Posted on 9/6/2020
Gullwing Reverse Longboard Trucks - white (blemished)
great trucks my second pair
Sweet for longboard carving
by
Lane B
in
Burque
(Verified Buyer)
Posted on 7/2/2020
Gullwing Reverse Longboard Trucks - black
These trucks are tall so you can run the biggest wheels that you dream.
by
dubldubs76
in
Speonk, NY
(Verified Buyer)
Posted on 2/5/2019
Gullwing Reverse Longboard Trucks - silver/black
Asked by
Christian
on 2/14/2017
Can i throw after market bushings like regular venom barrels? Or barricals/ eliminators?
Answered by
Danny M
(Tactics Employee) on 2/14/2017
Yes, you can definitely put after market longboard bushings on these.
---

More from Gullwing