Overview
The Independent Mids come with a lower 52mm profile to give you quick and responsive pops for flip tricks and the inverted kingpin gives you more grind clearance for your kingpin. The truck can be tightened with either a 5.5mm Allen wrench or the classic 9/16 hex wrench.
Features
Truck Features
No Hang-Up Yoke
4140 Chromoly Steel Axles
Grade 8 Kingpins
90a Medium Durometer Bushings
Lifetime Guarantee
Details
5.5 mm Allen and 9/16" Hex Wrench Adjustment
Axle/Kingpin Style
Inverted Kingpin - An inverted kingpin means the threads are in the trucks, meaning that even after prolonged grinding, you will always be able to tighten or loosen your trucks.
Truck Features
No Hang-Up Yoke - An enhanced yoke around the cushion seat takes the kingpin out-of-play on grind tricks like feebles and smiths.
4140 Chromoly Steel Axles - Chromoly has a high strength-to-weight ratio and is more durable than traditional steel, making it the best option for performance skate trucks.
Grade 8 Kingpins - Manufactured to stand up to the hardest landings and the most brutal street abuse, Grade 8 Kingpins will keep you rolling for years.
Lifetime Guarantee - Covered under manufacturer lifetime guarantee against breakage defects in hanger/base materials or workmanship. This lifetime warranty DOES NOT cover broken trucks due to abuse or neglect, damage caused by any modification done outside the manufacturer's facility, or lost or worn out parts due to lack of hardware maintenance.
Non-Compatible Risers
Risers from the following brands are not compatible with the baseplates of these trucks.
Sizing Reference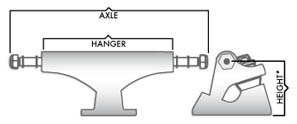 Note - Every skate truck brand represents their sizing a little differently, so it's easy to get confused. Take a look at this graphic and then reference the size chart.
Specs
| Size | 7.6 axle | 8.0 axle | 8.25 axle | 8.5 axle | 8.75 axle |
| --- | --- | --- | --- | --- | --- |
| Independent Size: | 129 | 139 | 144 | 149 | 159 |
| Hanger (mm): | 127.0 | 137.0 | 144.0 | 149.0 | 156.0 |
| Board Range (in): | 7.4 - 7.75 | 7.75 - 8.25 | 8.0 - 8.5 | 8.25 - 8.75 | 8.6 - 9.0 |
| Height (mm): | 52.0 | 52.0 | 52.0 | 52.0 | 52.0 |
| Weight (g): | 383.0 | 392.0 | 402.0 | 409.0 | 412.0 |
Reviews
Posted on 7/19/2021
Independent Mid Inverted Kingpin Skateboard Trucks
I got the baseplates and am running 169 Forged Titanium axles on em w/ 52mm F4 Con Full, Bones Big Balls. These shits sings.
Standard bushings ride loose.
Posted on 5/28/2021
Independent Mid Inverted Kingpin Skateboard Trucks - polished 159
I'm pretty happy with these now that I replaced the bushings. If you want to be able to ride your trucks more than medium loose you're going to need to order some different bushings. I went with the bones hard.
Kingpin doesn't stay tightened
by
Alexander York
in
Hamilton, NJ
(Verified Buyer)
Posted on 5/3/2021
Independent Mid Inverted Kingpin Skateboard Trucks - polished 139
Probably just a bad batch, but, unfortunately, the kingpin doesn't stay at the desired tightness/looseness after use. Kept having to re-tighten the kingpin every so often to keep it at the desired tension.
Posted on 4/30/2021
Independent Mid Inverted Kingpin Skateboard Trucks
I wwng from thunder lights to the heaviest Indy made. So it definitely too getting used to, lol after I got my big boy legs on, I find the way you have to pop, makes trikes look better. They grind better than anything else. My thunders were awesome in the park, lol but don't you dare hit red curbs. Indys, either one it just trucks through crap.
by
George
in
LA, CA
(Verified Buyer)
Posted on 1/18/2021
Independent Mid Inverted Kingpin Skateboard Trucks - polished 149
These are heavy trucks! Im used to a 144 and got the 149 which might be the problem but these def take some getting used to. They grind like a dream though
by
Brian Lambert
in
Amelia, OH
(Verified Buyer)
Posted on 1/18/2021
Independent Mid Inverted Kingpin Skateboard Trucks - polished 139
Nice height not to low. Loveing the reverse king pin. Feel like Indys and thats the best
---

More from Independent